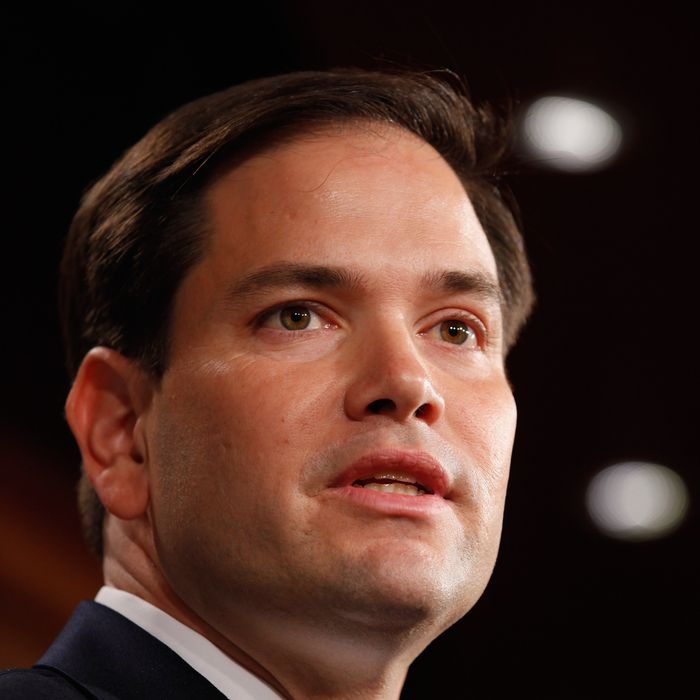 I was right! I was right!
Photo: Chip Somodevilla
If you can remember those innocent days of mid-January, before Obamacare was a nefarious liberal plot to pay lazy people to sit around and do nothing, the big problem with Obamacare was the Obamacare Bailout. This referred to "risk corridors," a previously obscure provision in the law to balance out actuarial risk among health insurers in the exchanges, which conservatives called a "bailout" despite the fact that 1) A bailout is a specific kind of ex-post, ad hoc subsidy for failing firms, not any program that subsidies any company; and 2) Risk corridors aren't even predicted to be a subsidy of any kind.
But now there is an ex-post, ad hoc plan to hand out cash to struggling health-care firms due to Obamacare. Republicans in Georgia and Mississippi are proposing to give some money to hospitals in their states that are facing huge losses due to Obamacare. Well, not exactly "due to Obamacare." The federal government used to reimburse hospitals for some of the money they lost providing care to uninsured people who couldn't pay them back. Obamacare negotiated a deal cutting those reimbursements, on the grounds that hospitals would be treating fewer uninsured patients (and more paying customers.)
But then John Roberts rewrote the law to allow states to opt out of Medicaid expansion, and Republican-controlled states have eagerly jumped at this chance to deny coverage to their poorest citizens. Republicans in these states don't consider this a problem. What is a problem is the hospitals, which are collateral damage. Hospitals are owned and operated by respectable, high-income non-moochers whose suffering Republicans are likely to take seriously. And hospitals in these red states are pretty seriously screwed, having lost federal funds they used to get for covering the uninsured, but not getting the anticipated decrease in uninsured because their Republican-controlled governments are boycotting Obamacare.
The hospitals are agitating for their states to take the almost completely free federal funds to cover the uninsured. Red-state Republicans don't want to do that. They'd rather just write checks to hospitals instead:
Georgia state Rep. Terry England, a senior Republican lawmaker tasked with drafting the budget, said he has discussed packages that could include payments to hospitals and run in the tens of millions of dollars …

In November, Mississippi Gov. Phil Bryant proposed sending an additional $4.4 million to make up for Medicaid cuts that were later delayed by Congress.
Bailouts are bad, but it beats giving health care to poor people.