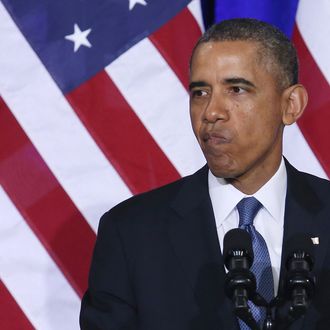 Photo: Mark Wilson/2014 Getty Images
In his speech last month on post-Snowden changes to the NSA, President Obama said, "The challenge is getting the details right, and that's not simple." That's apparent from the options Obama administration lawyers have come up with for handling the NSA's collection of phone data. The president said the massive amount of phone metadata should not be held by the NSA, and asked the Office of the Director of National Intelligence and the Justice Department to report to him by March 28 on possible ways to restructure the controversial program. The Wall Street Journal reports the agencies are ahead of schedule, and have already presented four alternatives that will each anger a different group.
The two most technically feasible alternatives were already suggested by the president's review panel: storing the data with phone companies or another government agency. Some lawmakers favor the former option, but telecommunications companies are not interested in holding onto data and performing searches at the NSA's request, particularly because it may lead to demands for information regarding all kids of legal proceedings.
Some have suggested turning the data over to the FBI or FISA court, but that's also problematic. The FBI is already intertwined in the NSA's questionable surveillance practices, and judges are against expanding the court's role.
Privacy groups have balked at the idea of having a third party outside the government or phone companies hold the information. Obama summed up their concerns in last month's speech: "Any third party maintaining a single consolidated database would be carrying out what's essentially a government function, but with more expense, more legal ambiguity, potentially less accountability, all of which would have a doubtful impact on increasing public confidence that their privacy is being protected."
The Journal reports there's no consensus on the best location for the data, and a spokeswoman for the White House National Security Council would only say that the Justice Department and intelligence agencies "have kept us abreast of their progress, and we look forward to reviewing those options." The fourth option, doing away with the program altogether, seems pretty simple, but it may actually be the most complex. Intelligence officials won't just give up on a program that they insist is crucial for fighting terrorism, so they would try to obtain the information through other investigative methods, which would likely raise a host of other privacy concerns.