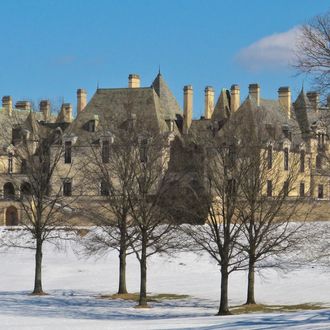 Photo: AP Photo/Frank Eltman
Oheka Castle in Huntington, New York has hosted celebrity weddings, including Anthony Weiner's nuptials, and served as a backdrop for films such as Citizen Kane, and on Monday afternoon it was the site of a crime that shocked the New York political establishment. Owner Gary Melius, who lives on the property, was getting into his car in the parking lot when he was shot in the head by a masked gunman. Melius, who is 69, was rushed to the hospital by his daughter, and was conscious before entering surgery on Monday evening. Police are still searching for the shooter, who they believe escaped by car.
The shooting appears to be a "targeted crime," according to Deputy Inspector Mathew Lewis, commander of the Suffolk County Police Department's major crimes bureau. No property was stolen and Lewis said, "We don't know any motive at this time." Police are reviewing surveillance footage, though it's unclear if it captured the shooting. At the time, many people were at the Gilded Age estate, which now serves as a hotel and catering facility, but it appears there were no witnesses.
Friends tell the New York Times they have no idea who would want Melius dead, but there could be a political connection. Melius is a power broker who donates hundreds of thousands of dollars to candidates from both parties, usually while they're in power. His estate is a popular destination for New York politicians, including former U.S. senator Alfonse D'Amato, his close friend.
"It was not a robbery. It was an attempt at assassination," said D'Amato, who joined Melius at the hospital. "He was at the Castle, outside. Nobody put a gun to him or said, 'We want your money.' They just shot him. The guy had a mask on." Melius is in stable condition after undergoing surgery on Monday evening, and officers have been stationed at the hospital.