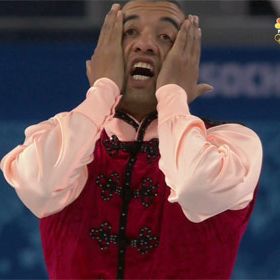 We're assuming Bob Costas had to be put into some kind of medically induced coma to combat that pink eye, as Matt Lauer hosted NBC primetime once again tonight. Whenever Bob's eyes have finally healed, they will no doubt be stunned at how warm and sunny Sochi has become.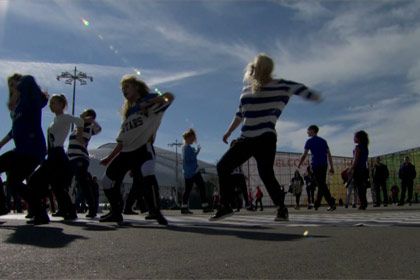 Seriously, temperatures have crept up into the sixties. That's downright hot!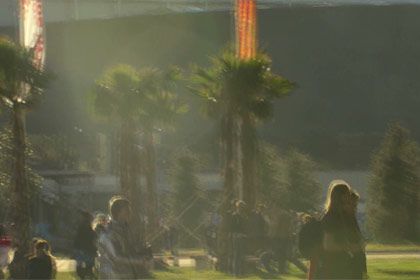 Hot enough to drive a man insane, apparently.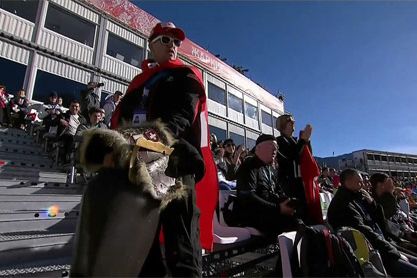 The U.S. only won two medals today, which made for a lot of sad moments. Some of the moments came before the events even began, like when U.S. snowboarder Arielle Gold had to pull out of the games due to a shoulder injury suffered during practice.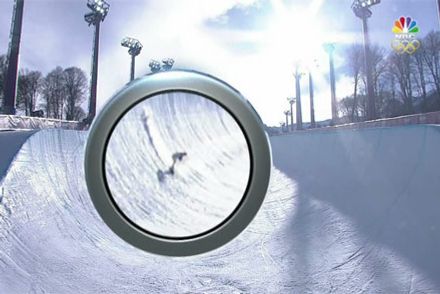 It also made for a lot of enraging moments, as anyone who saw the U.S. vs. Canada women's hockey game can attest. Canada won the match 3-2, though the Americans questioned whether or not that third goal was made after the ref's whistle had been blown. After official review, the point stood. So we all just have to learn to accept it.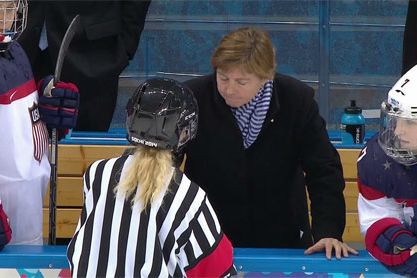 Since U.S. speed skater and medal hopeful Shani Davis didn't place in the 100-meter, we settled for this cute moment between gold medalist Stefan Groothuis and his coach instead. We're very happy for him and the Netherlands, which along with Canada and Norway are beating us in the medal count. We're fine with it. It's fine.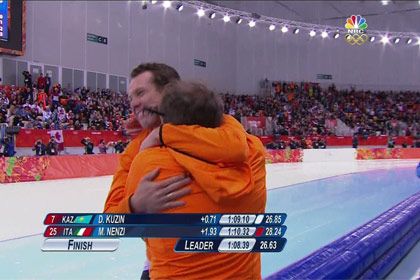 We've still got Julia Mancuso's family, who are going to need everyone to shut up and please stop interviewing them for a second.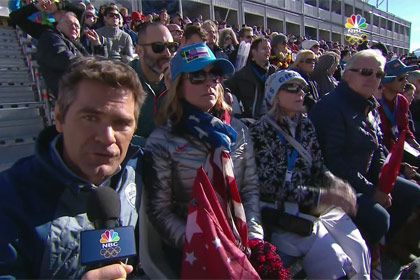 While Mancuso finished eighth in the women's downhill, Slovenia's Tina Maze and Switzerland's Dominique Gisin tied for gold, with Lara Gut bringing in the bronze.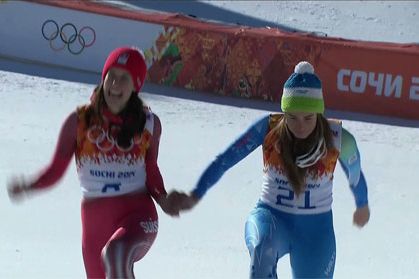 Did you know Tina Maze is apparently also a gigantic pop star in her home country?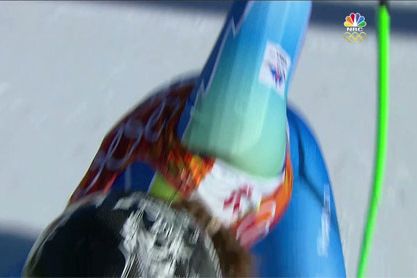 Did you also know that Lara Gut is one of the few Olympians who we've seen let her actual emotion slip after a disappointing run? Gut audibly screamed with rage after she saw her time.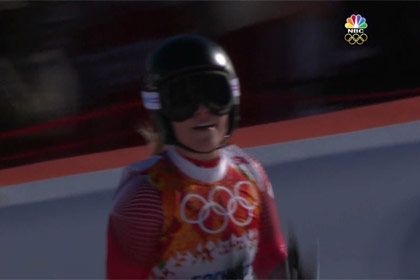 At least she wasn't French competitor Marie Marchand-Arvier, who spun out into a devastating crash.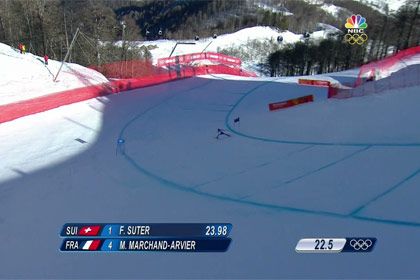 We cannot believe we almost forgot this: Dutch speed skater Koen Verweij, who placed sixth behind Stefan Groothuis, exists and has an Instagram. Do yourself a favor.
Sadly NBC still hasn't moved Johnny Weir over to primetime ice-skating coverage, not that he cares.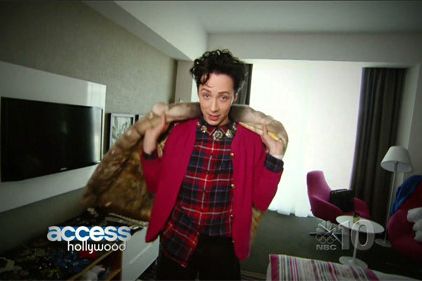 It's honestly a shame though, because much like Johnny Weir, ice skating is just a little bit too much. The sport requires strength, agility, focus – and the ability to perform ballet in a one-piece bathing suit while perched on two blades.
Boom. If you are going to straight-up squat at the Olympics, you do it classy and you do it to an instrumental version of the Addams Family theme song like Russian silver medalists Ksenia Stolbova and Fedor Klimov. Are we right or are we right?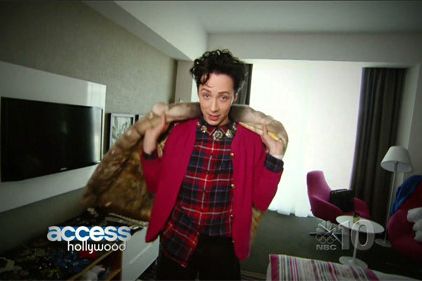 We're right. Meanwhile, gold medalists Tatiana Volosozhar and Maxim Trankov knew they were perfect, so perfect that they almost lost their minds after their routine.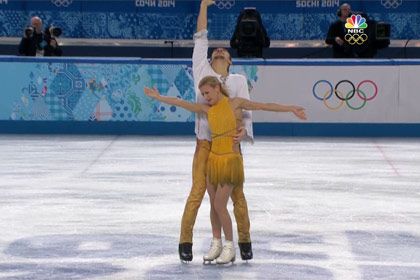 They danced to the titular song from the Jesus Christ Superstar soundtrack while wearing french-fry outfits, and we almost cried at the beauty of it. This is the Winter Olympics at its best.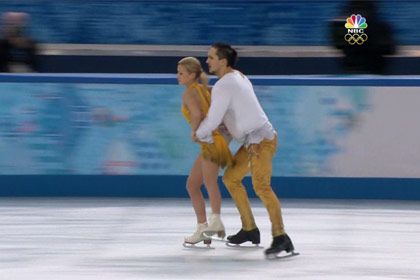 On the flip side (get it?!), Germany's Aliona Savchenko and Robin Szolkowy seemed shaky from the get-go. Between's Szolkowy fall at the beginning of the routine and the commentators' encouraging remarks, that last mistake really made us cringe: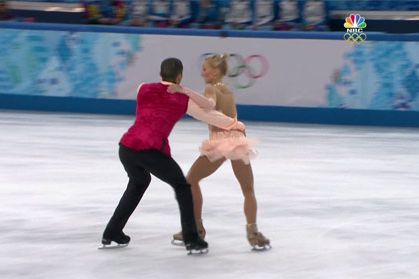 And they still managed to take home the bronze! Meanwhile, the biggest faux pas from U.S. skating pair Marissa Castelli and Simon Shnapir was a failure to fully complete a throw quadruple Salchow.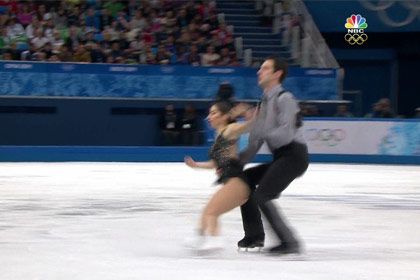 And they finished ninth. But it's fine! It's all fine. Fine by us. We still managed to redeem ourselves in the women's half pipe. Veteran American boarder Kelly Clark was expected to take the gold, but as with Shaun White, that icy half pipe ate her dreams.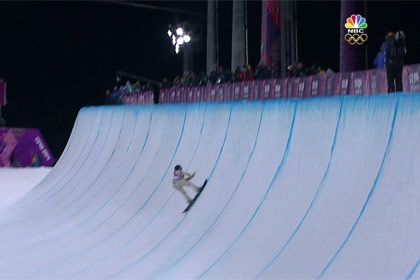 Thank goodness teammate Kaitlyn Farrington was able to bring it home. Farrington took gold, while Clark still brought in bronze. Thanks Kaitlyn and Kelly! Hopefully tomorrow will be less awkward for everybody.