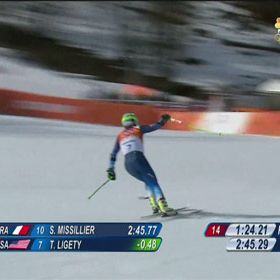 Wednesday's Olympic games certainly had fewer falls compared to Tuesday's, though between the fog and the snowboard cross, we suppose literally any other day in history had fewer people falling down than Tuesday. Not that there wasn't plenty of action! Oh boy, was there ever.
For starters, the U.S. men's hockey team beat the Czech Republic 5-2.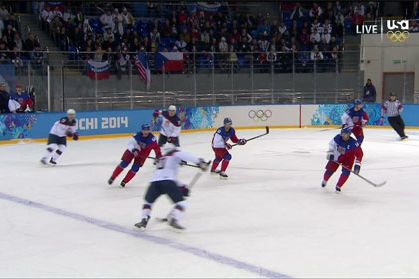 While Russia was eliminated by their loss to Finland. Do svidaniya, Alex Ovechkin.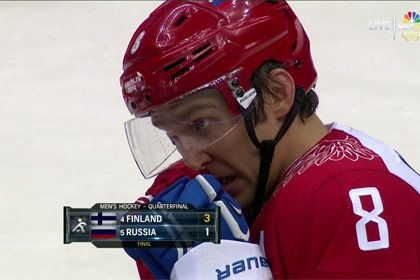 As for Canada, they narrowly beat out Latvia, which pulled this highly questionable move.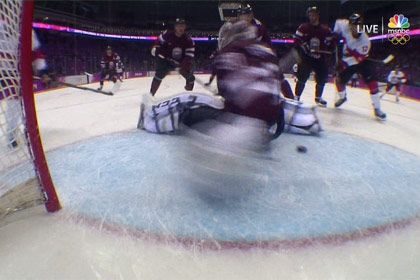 Turns out, you can't just grab a puck in the goal area if you aren't the goalie. Who knew? They knew. They all knew. Canada still narrowly pulled it out 2-1.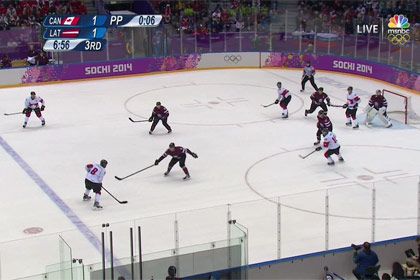 Speaking of Canada, the U.S. is now on top of the medals count with 23 medals. USA! USA! USA!  Oh, and Canada's Kaillie Humphries and Heather Moyse took the women's two-person bobsled gold. Still, two of those American medals came courtesy of bobsled silver medalists Elana Meyers and Lauryn Williams and bronze medalists Jamie Greubel and Aja Evans.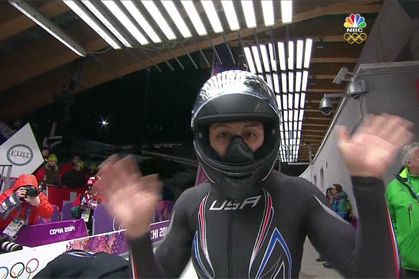 While Meyers's teammate Lauryn Williams missed the chance to become one of two athletes in history to win a summer and winter Olympic gold, she's still the first woman and only the fifth athlete to win a medal of any kind at the two games. Not too shabby.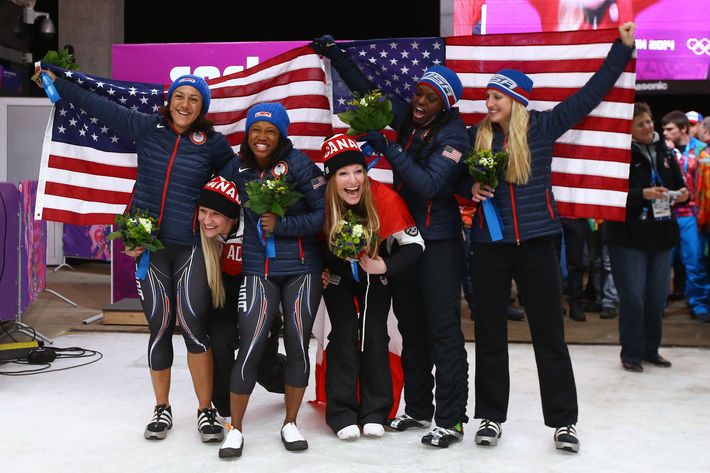 On a side note, there are a lot of Lolo Jones detractors out there, and they all need to see her televised pep talk to teary-eyed teammate Jazmine Fenlator after they took eleventh. She seems like a good egg.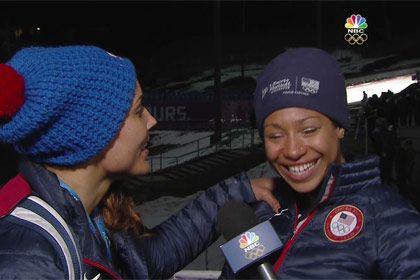 In case you were wondering where the curling love is in these GIF-caps, it's here! The Canadian women's team won its semifinal over Great Britain …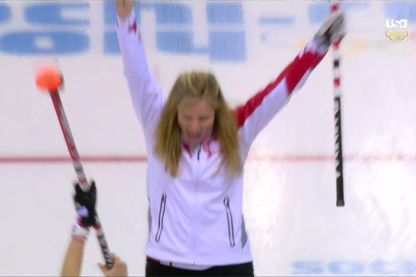 Sweden also came out victorious after Switzerland missed its final shot. Great Britain and Sweden will compete Thursday morning for the gold, while men's curling sees Great Britain and Canada square off in the gold final tomorrow as well. Those Brits sure know how to use little brooms, don't they?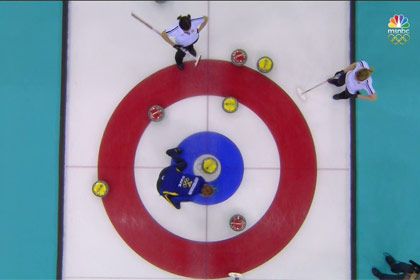 If you watch the Olympics more for the superb performances of top-notch athletes rather than the crash reel and reaction shots, good for you. You're probably a very good person. You're also probably someone who thoroughly enjoyed Ted Ligety's technically impressive gold-medal winning performance in the men's giant slalom. Steve Missillier and Alexis Pinturault, both of France, took the silver and bronze respectively, probably because they didn't know how to ski down a mountain at a 73-percent angle.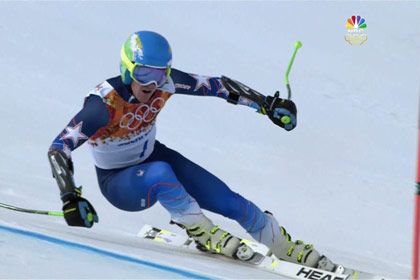 Ted Ligety's parents were excited. Like, extremely excited.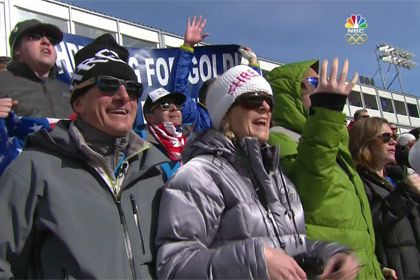 Jeez, poor Bode Miller. First NBC films him breaking down, then he finishes nineteenth in the giant slalom and has to pull out of Saturday's slalom event due to his injured knee. It is rumored that Sochi will likely be Miller's last Olympics.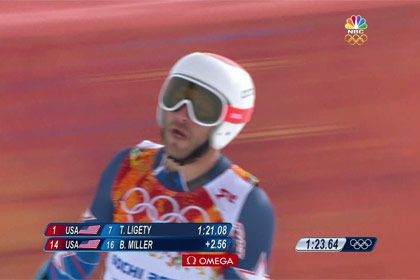 To the skating palace! Defying all expectations, it was the women's figure-skating short program that was plagued by stumbles and trips, from seasoned competitors like Japan's Mao Asada, who won the silver at the 2010 Vancouver Winter Olympics …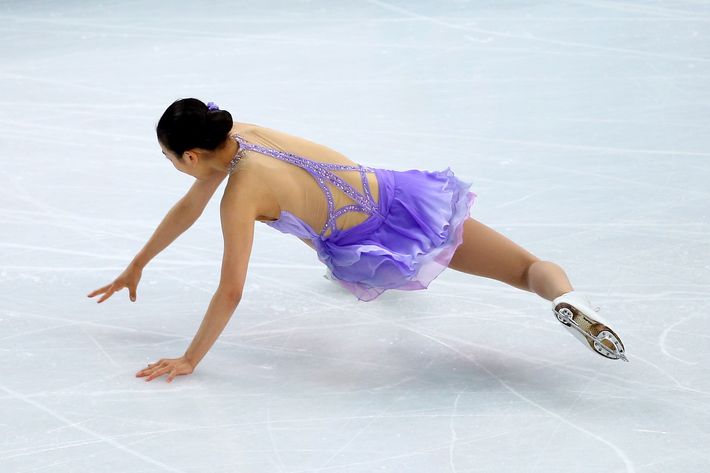 To younger skaters like Russia's Yulia Lipnitskaya.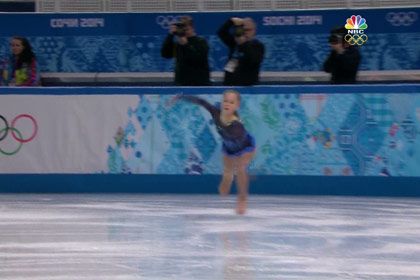 U.S. skater Gracie Gold, who you may have seen juggling on Leno's Tonight Show if you were lucky, performed a lovely program.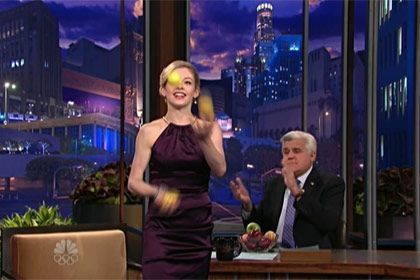 And placed fourth.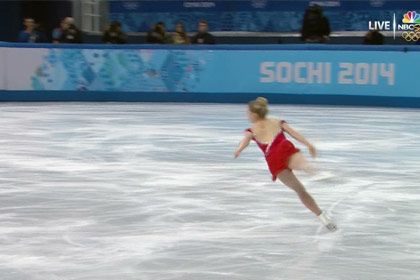 France's Maé Bérénice Méité skated to Prince's "The Question Of U," the exact same song used by American skater Jason Brown during the men's figure-skating competition, which begs the question: Why isn't every skater skating to a Prince song?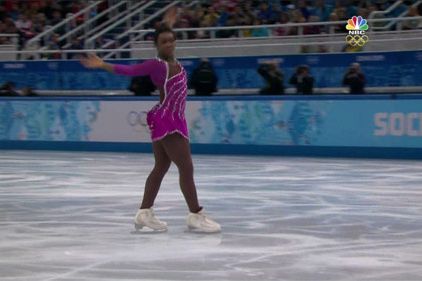 Coming in sixth, Ashley Wagner demonstrated once again that she has whatever the opposite of a poker face is called. Charades face? Mime face? Mime face.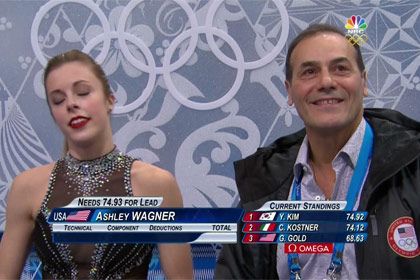 As does Russia's Adelina Sotnikova, currently in second place. Italy's Carolina Kostner follows in third.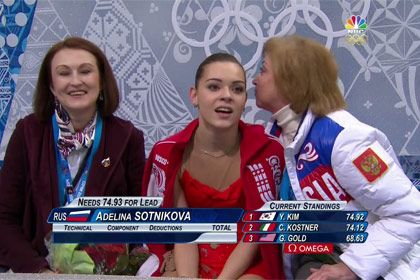 Then there was South Korea's Kim Yuna, the gold medalist from Vancouver. The commentator narratives around Kim seem to be that she is a gigantic celebrity in her home country, is immune to nervousness or stress and essentially does not have to practice or compete regularly to stay at the top of the skating game.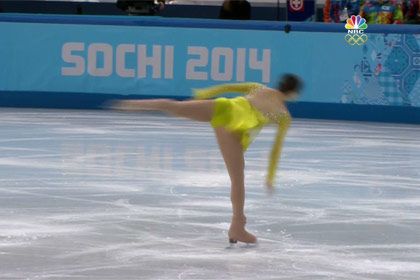 We don't know if it's insulting to suggest that an Olympic-level athlete can just roll up and dominate the game whenever she feels like it, or if it makes her performance that much more impressive. Kim came out on top Wednesday night, so we'll go with the option that makes her seem like a complete and total baller.