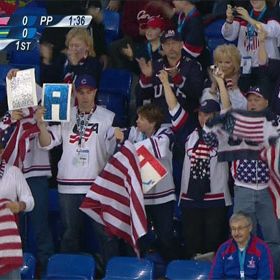 Apparently the fog was so dense in Sochi on Monday that several events had to be postponed, including biathlon target shooting and snowboard cross, but we barely noticed now that we have Bob Costas's beautiful healthy eyes nearly blinding us once again.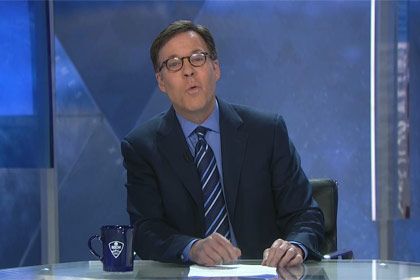 Both Russia and the United States have finally pulled ahead of the freaky deaky Dutch today, and are currently tied at eighteen medals. Russia won one of those medals in two-man bobsled.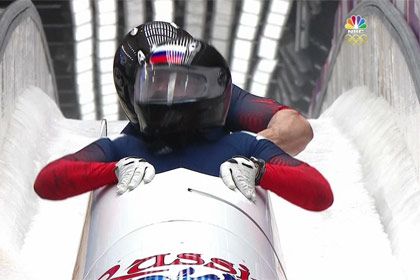 While Alexander Zubkov and Alexey Voevoda took gold by a significant lead, we were most fixated on American Steve Holcomb's Darth Vader mask. It's not not hot, right?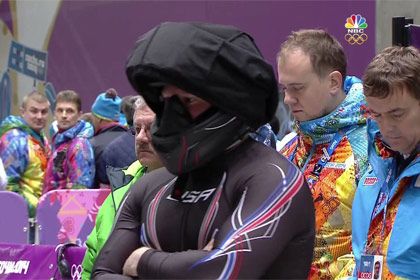 Holcomb and his teammate Steven Langton took bronze, while the Swiss snagged silver.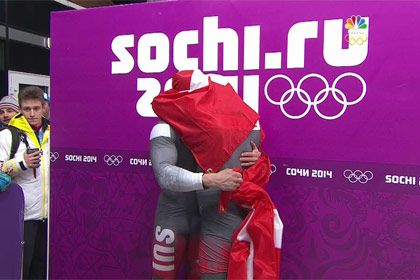 And of course there was the Jamaican bobsled team's theme song and accompanying video, which was created by the viral marketing geniuses at the Jamaican Tourist Board. The Jamaican team itself had actually not heard the song yet when they did their final runs.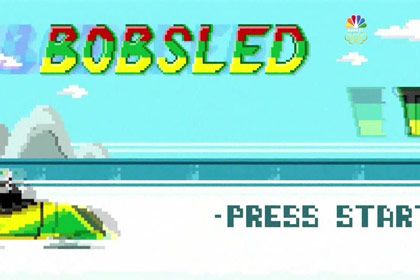 Yeah, and then a reporter gave them an egg. "Remember that movie about you guys? Well, not you guys, but those other Jamaican guys? One of them had an egg? For luck? Well, anyway, sorry about you guys coming in dead last this year. That stinks."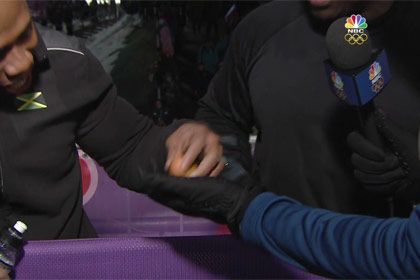 Meanwhile, the U.S. women's hockey team beat Sweden 6-1.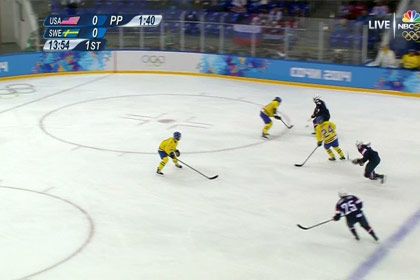 And with a minimal amount of hits to the face! Well done, ladies. The win set the U.S. up for a gold medal match against Canada on Thursday.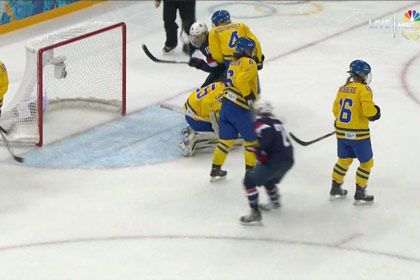 Monday's biff quota was filled by men's aerial ski jumping, which sees snowboard cross and raises it three flips in the air off a sharp ski ramp. It's like diving, except with a 100 percent chance you will become paralyzed if you land headfirst.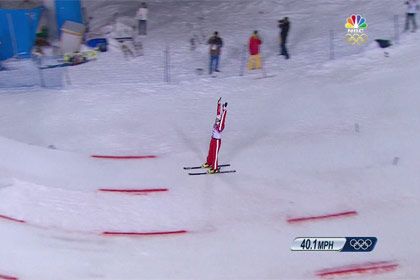 Belarus's Ashton Kutcher Anton Kushnir took home the gold three nights after fellow Belarusian Alla Tsuper took home the women's gold.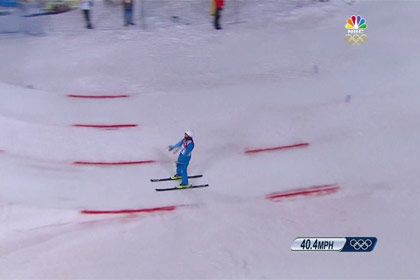 Australia's David Morris brought in the silver, China's Zongyang Jia took the bronze and Kushnir's coach took the coveted Cutest Coach of All Time Award.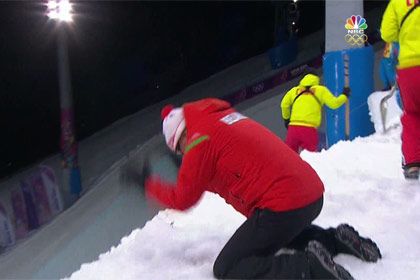 Belarus also brought in a gold medal with Darya Domracheva's mass start win in the women's biathlon. It was actual Domracheva's third biathlon gold, the other two being women's pursuit and women's individual.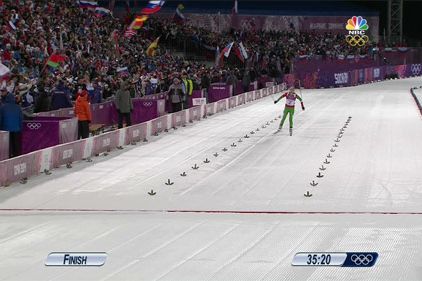 If you turned on any Olympic coverage whatsoever for longer than a second, you probably already know that one of America's new medals was the pairs ice dancing gold, which got snapped up right quick by Meryl Davis and Charlie White.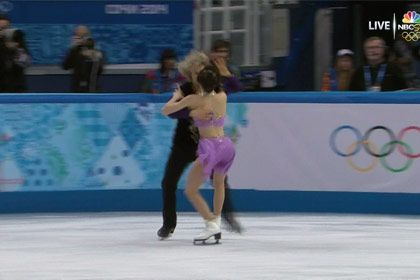 Tessa Virtue and Scott Moir of Canada brought in the silver. Maybe work some more on those twizzles before heading to South Korea?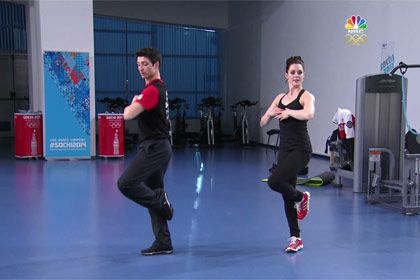 But really, everyone did an elegant, weird job on the ice Monday night. France's Nathalie Pechalat and Fabian Bourzat certainly did.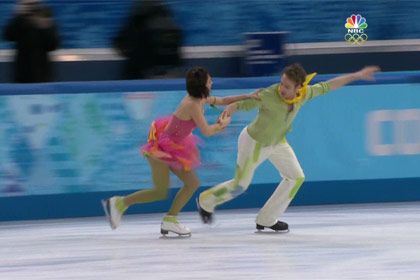 And Russia's Dmitri Soloviev and Ekaterina Bobrova did whatever in God's name this was. Their's was a very inventive performance, so inventive that the judges remained silent long enough that we assumed something had happened to the broadcast's audio.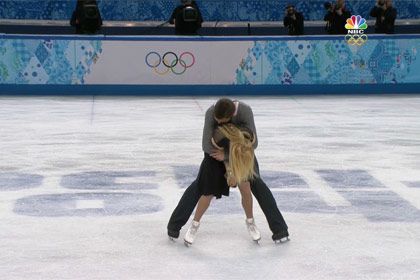 While we are so happy for Davis and White's historic win, the first American gold in ice dancing, the most important event that occurred during Monday's Olympic coverage was the promo for Mary Carillo's upcoming interview with Tonya Harding and Nancy Kerrigan.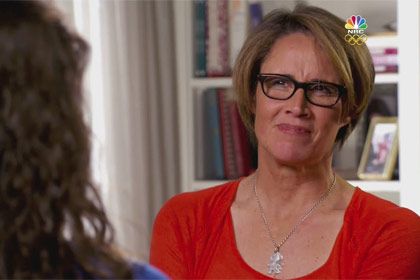 This looks like it will make that trip to the matryoshka factory look like a pile of culturally important, beautifully hand-painted garbage.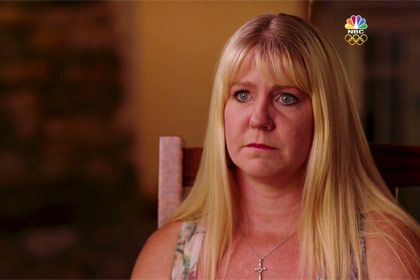 Unfortunately the interview doesn't air until this coming Sunday, but we can make it.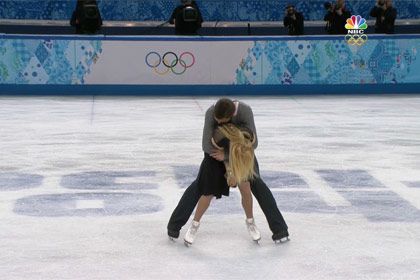 It won't be easy, but we can make it.