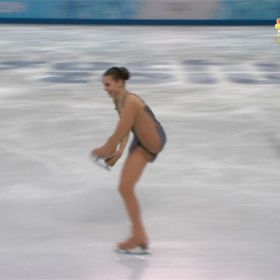 What a day in Sochi! Biffs abound! The U.S. stays on top of the Olympic medal count with 25, two more medals than Russia and three more than the Netherlands. We trail Norway's ten gold medals, however, and we lost one today in just about the most painful way possible.
If you're a hockey fan, you have no doubt watched, reacted to, and processed to some extent the U.S. women's hockey team's heartbreaking loss to Canada. As for us casual hockey viewers, consider our guts wrenched!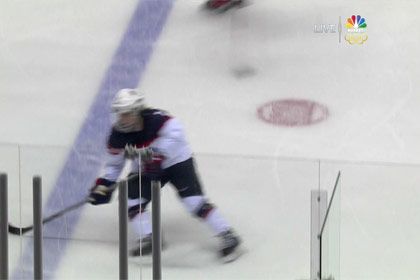 The U.S. was ahead by two until Canada rallied with less than four minutes in the game. It was all downhill from there.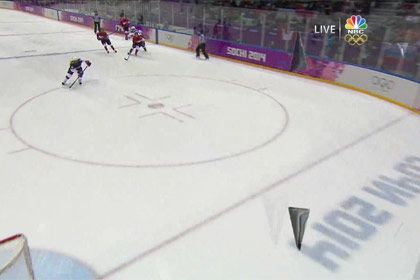 Canada ended up beating us in overtime 3-2.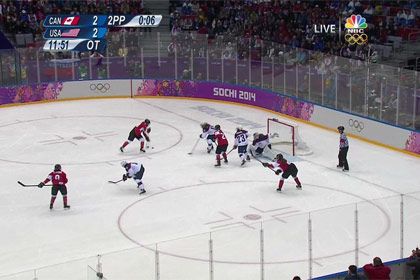 Hmmm, would a hilarious Canadian fall make everyone feel a little better? Okay, great. Here's Canada's Roz Groenewoud skidding out during the women's ski half-pipe. She placed seventh.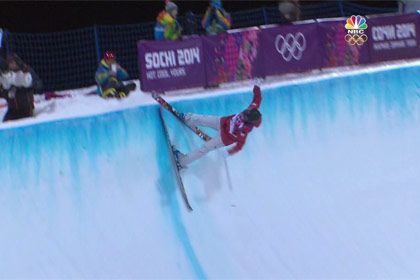 Meanwhile, here's America's Maddie Bowman. She won gold!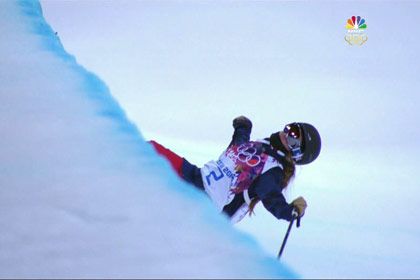 Like Ted Ligety, Bowman was expected to perform well, and she definitely did. France's Marie Martinod and Japan's Ayana Onozuka took home the silver and bronze respectively.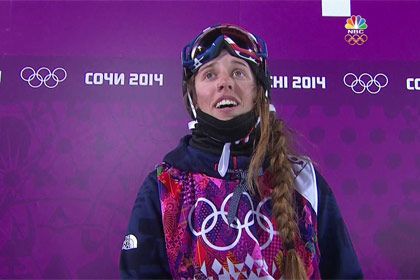 The focal point of the women's half-pipe was an athlete who did not get a chance to compete: Sarah Burke, a women's freestyle pioneer and Winter X Games gold medalist who lobbied to have freestyle skiing added to the Winter Olympics. Burke died in 2012 due to injuries sustained during practice. A heart was skied in her honor.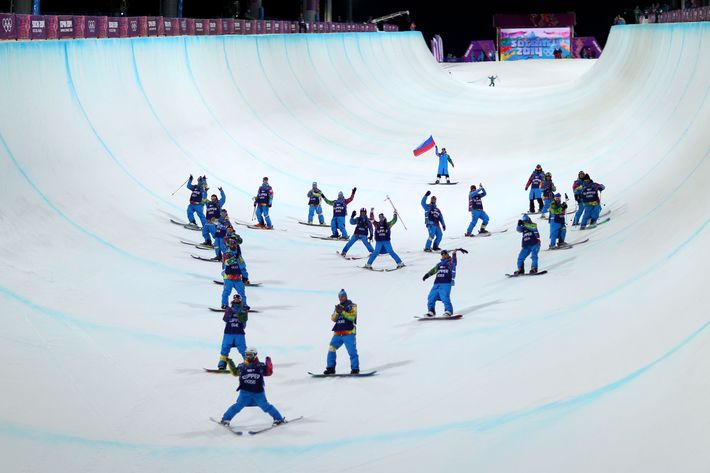 The French ended up handily sweeping the men's ski-cross event. Jean Frédéric Chapuis, Arnaud Bovolenta and Jonathan Midol took gold, silver, and bronze respectively. The men's ski-cross quarterfinals, however, ended in a harrowing three-way photo finish.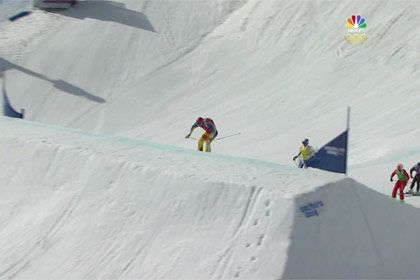 Here it is from another angle, because why else have a GIF-cap?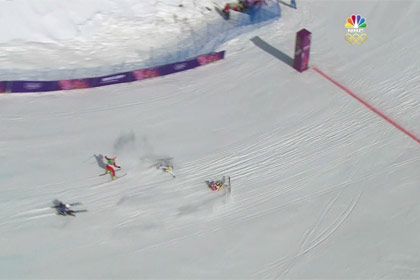 Oh and another ski-cross crash, just for good measure.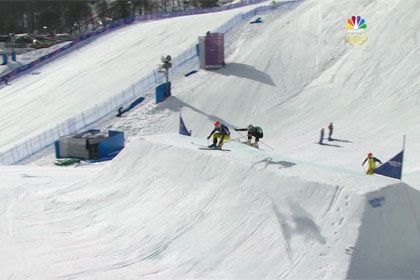 The U.S. took sixth in the Nordic combined team event while Norway took gold, with Norway's Joergen Graabak beating Germany's Fabian Rießle to the finish line by 0.3 seconds. The only thing better than a crash? An honest-to-god photo finish.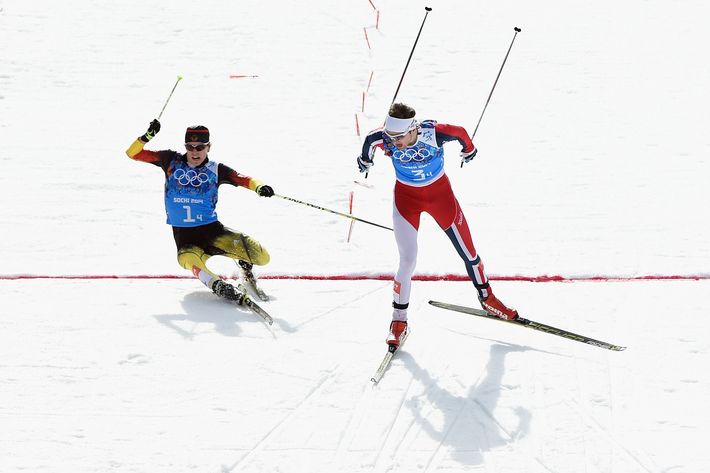 Speaking of skin-tight bodysuits and falling down, U.S. speedskater Maria Lamb criticized the U.S. Speedskating organization for a variety of ills this week, including the new high-tech suits she and her teammates initially wore in Sochi. No American has medaled in a speedskating event this year. Lamb tempered her comments on her blog on Thursday, explaining "Being more than just a little bit tired at the time, I'm not sure I did a very good job of fully expressing my thoughts, emotions and feelings to the press."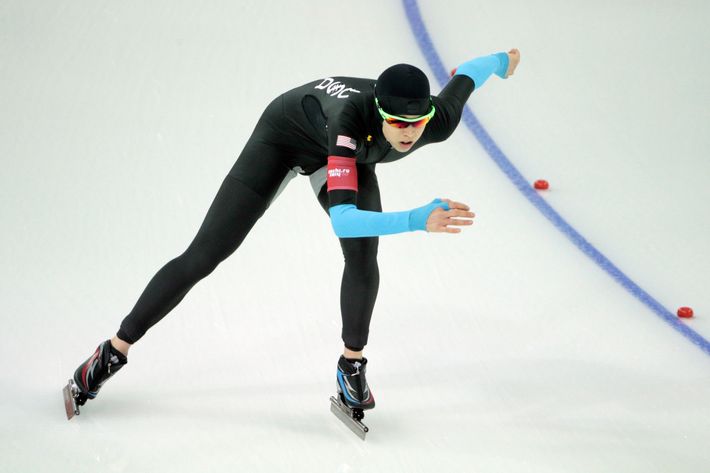 Alright, so tell us: What, what, what was going on with the women's figure skaters at Tuesday's free skating program? Everyone was falling down, from Japan's Akiko Suzuki …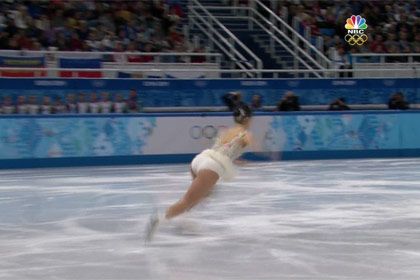 To U.S. skater Polina Edmunds …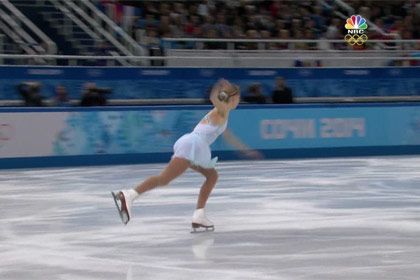 To her American teammate Gracie Gold …
To Russian darling Yulia Lipnitskaya.
Japan's Mao Asada fell in the short program, but then crushed her free-skate program. Imagine knowing you crushed something so hard, you began openly weeping. To dream the impossible dream, we guess.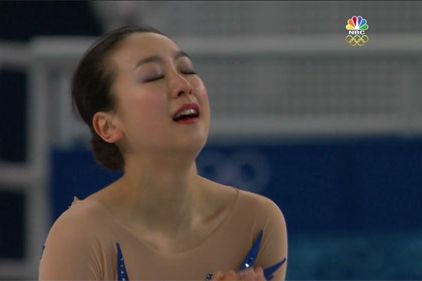 Not that Thursday's figure skating was all tears and scraped knees. How could it be, when Johnny Weir wore a golden diadem?

Media coverage seemed to suggest the entirety of Russia's self-image was riding on Yulia Lipnitskaya's 15-year-old shoulders (especially after the Russian men's hockey team got bumped out of the running). Hope they don't mind shifting the weight of the nation's well-being onto her teammate Adelina Sotnikova's shoulders, because she took home the gold. It was, in fact, Russia's first gold in women's figure skating.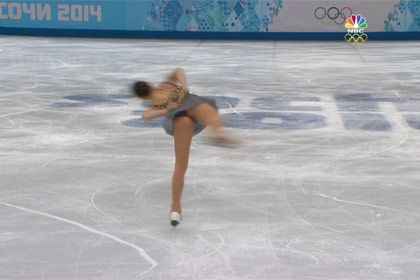 South Korea's Kim Yuna also skated well but only managed to take silver, while Italy's Carolina Kostner took home bronze.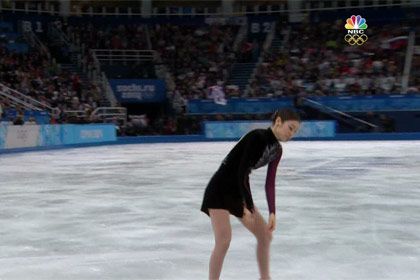 Ashley Wagner placed seventh behind both Gold and Lipnitskaya. She played it cool at the time, but apparently coming in behind two falling skaters did not sit well with her.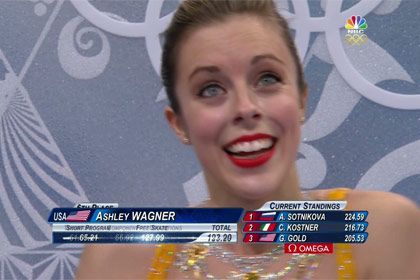 Goodbye, women's figure skating! We'll miss you most of all when the Olympics end this coming Sunday. What will we do with our lives once the games come to a close? What will we GIF then? How will we go on?