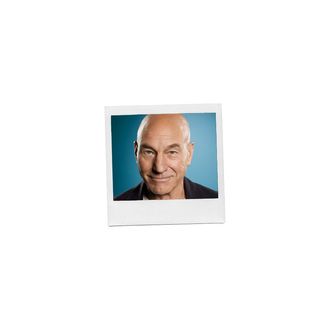 Name: Sir Patrick Stewart
Age: "Timeless"
Neighborhood: Park Slope
Occupation: Actor, currently appearing alongside Ian McKellen, Billy Crudup, and Shuler Hensley in Waiting for Godot and No Man's Land, performed in repertory at the Cort Theatre on Broadway through March 30. (Grab tickets here.)
Who's your favorite New Yorker, living or dead, real or fictional?
Paul Simon, a brilliant artist and man. 
What's the best meal you've eaten in New York?
Babbo's pappardelle during white-truffle season. Simple and perfect.
In one sentence, what do you actually do all day in your job?
Play "make believe" and dress-up in an adult, expensive kindergarten.
What was your first job in New York?
Playing Snout the Tinker in the legendary Peter Brook's A Midsummer Night's Dream at the Billy Rose Theatre on 41st Street.
What's the last thing you saw on Broadway?
A Time to Kill, directed by Ethan McSweeny.
Do you give money to panhandlers?
Rarely.
What's your drink?
Chivas and soda.
How often do you prepare your own meals?
Rarely. My wife is a great cook and when she goes away she stuffs the freezer with good things.
What's your favorite medication?
Does anybody have a favorite medication?
What is the best thing in or about your apartment?
The sunlight and our neighbors. They cook, play really cool music, and have dogs we can borrow.
What's the craziest thing you've ever seen on the subway?
Four guys break dancing brilliantly in the space between the doors.
When was the last time you stayed out past 3 a.m.?
The opening night of "Two Plays in Rep" in November. The "late part" was AFTER the after-party at Ian McKellen's apartment with Bryan Singer and friends, and I did not regret a moment of it.
Which do you prefer, the old Times Square or the new Times Square?
Neither is great … but I'll go with the old one. Exciting, scary, and strangely friendly. That was 1971.
What do you think of Mayor De Blasio?
He makes me hopeful for a fairer NYC.
What do you hate most about living in New York?
Potholes — especially 48th Street. Mr. Mayor, please …
If you could banish one person from New York forever, who would it be?
Mark Rylance. How many Tonys does the clever bugger need?
When's the last time you drove a car?
Last week, to the new Whole Foods on Third Avenue, Gowanus. (My wife could live there.)
Finish this sentence: The NYPD _____.
The NYPD keep our post-show stage-door craziness safe and good-humored.
Where do you go to be alone?
My dressing room on the top floor of the Cort Theatre.
What makes someone a New Yorker?
Generosity.