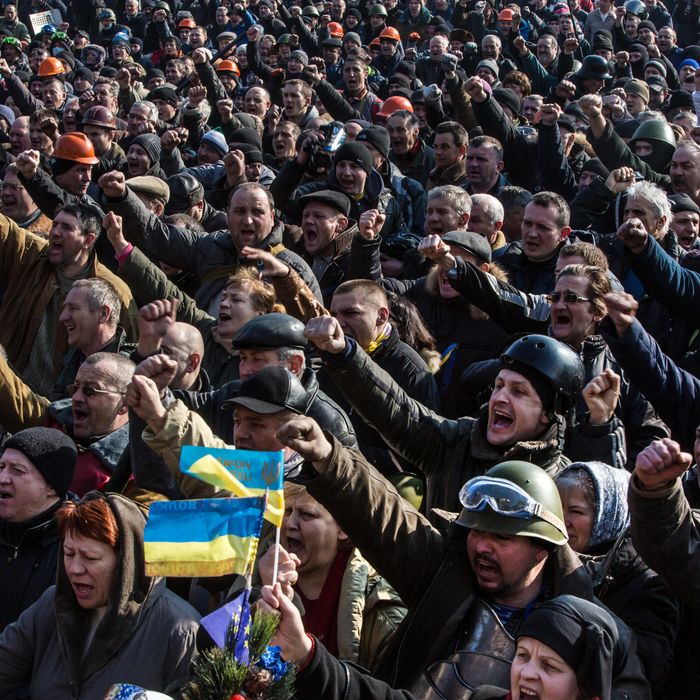 Photo: Brendan Hoffman/2014 Getty Images
After a chaotic and deadly day of clashes on Thursday, Ukrainian President Viktor Yanukovych signed a deal with protest leaders in Kiev on Friday, agreeing to early presidential elections, a coalition government, and a constitutional reduction of presidential powers. The deal, brokered by European Union and Russian mediators, restores the 2004 Ukrainian constitution "with a rebalancing of powers towards a parliamentary republic," Yanukovych said. The Ukrainian parliament approved the reversion to the old constitution on Friday evening. But while protest leaders had reportedly signed onto the peace agreement, not all who have been rioting in recent days said they would abide by it.
"Any deal that does not include the president's departure, however, is unlikely to get the approval of the mass of protesters," the New York Times pointed out. A date for the accelerated election hasn't yet been set. One protest leader, Pravy Sektor, told the Associated Press he didn't think the government would honor the deal, and that "the national revolution will continue."
Other protesters the Times reached in the street "said that the Yanukovych plan was unacceptable and that the so-called opposition leadership did not speak for them." But a Polish foreign ministry spokesman told Reuters a council of protesters in Independence Square had approved the deal.
The parliament, meanwhile, also voted to offer amnesty to protesters involved in the protests. But while Friday was far less chaotic than Thursday, the AP notes that "shots were heard" near the protesters' camp, though it was unclear who was targeted.