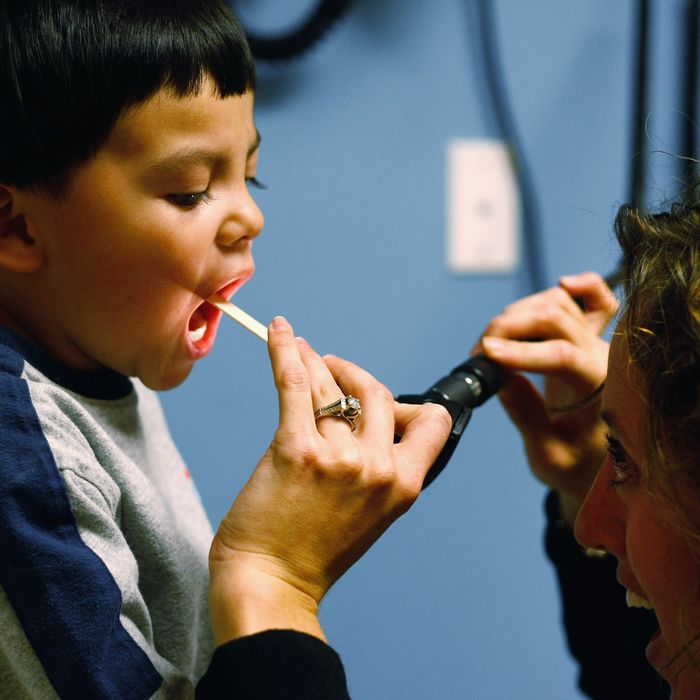 Photo: John Moore/2009 Getty Images
My family has a terrific pediatrician, but we send our kids to see her less and less often because her office is available only during working hours. When is it preferable to take your kid to the doctor during working hours? Not very often. If it's nighttime and they're suddenly really sick, we'll take them to the urgent-care clinic. If they just need some antibiotics or a flu shot or the like, we'll go to the local nurse-practicioner, who has weekend office hours. The number of times when it makes sense for one of the parents to miss work, and for the children to miss school, in order to see a pediatrician turns out to be rare.
I think of this as a huge new convenience. Lots of other parents do too, as evidenced by the explosive growth of retail-based health clinics, which offer not only better hours, but charge 30 to 40 percent less for the same services. The American Academy of Pediatrics, on the other hand, thinks of it as a massive threat to American health. The Academy has released a new statement advising parents not to use retail health clinics. Why not? Because:
Pediatricians are specifically trained in child health issues. They know each child's health history, and are best equipped to take care of both simple and complicated problems comprehensively within the medical home. As young patients and their health issues become more complex, the possibility arises that even a simple complaint may be related to a more serious, underlying condition that could be overlooked by someone who is less familiar with the patient, according to the AAP.
Trust them – they're doctors! Not small-business owners trying to exclude the competition with hand-waving claims about complexity.
It is surely true that some routine ear infections will turn out to be a "more serious, underlying condition," and that, theoretically, a single doctor with a long-term relationship may have a slightly better chance of correctly diagnosing the condition. But accepting the higher cost and massive inconvenience of traditional office-based medical care in order to ward off that tiny and probably nonexistent risk is the sort of trade-off that incumbent interests are always defending, but which has made American medicine the worst deal in the advanced world.
The explosive growth of retail medical clinics – CVS and Walgreens, among others, are making huge bets in this sector – is part of the wave of innovation that's overturning the old medical model and driving medical inflation to historic lows. But every new model of delivering care threatens somebody's old model, and that somebody is going to try to scare or regulate the competition away.