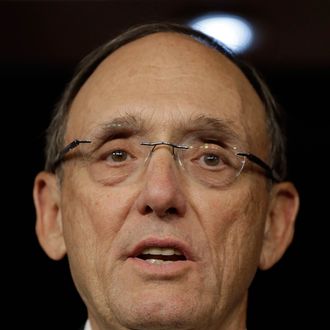 Photo: Win McNamee/Getty Images
Tennessee Representative Phil Roe landed the triple-axle of insane anti–Affordable Care Act rants at the Heritage Foundation's Conservative Policy Summit yesterday. "Right now, the federal government tells you what you have to buy," he said. "I'm going to be a little graphic here now, okay?" Okay, let's do it.
"I have been fixed. My wife has been fixed. We got three kids. Both of us have determined if we thought we had to raise another kid right now, we would jump off the Capitol, head first into the parking lot, face first. You got the idea — don't want any more kids," he said. "But I have to buy pediatric dental coverage, pediatric vision coverage, infertility coverage OB coverage, of which I don't need any of." And what this country really needs is to closely align its needs with Phil Roe's.
Elsewhere in the talk, he mocked aloud, Can't you just tweak the bill? "Yeah, with a nuclear bomb!" he said.
What, no slavery or Holocaust reference?