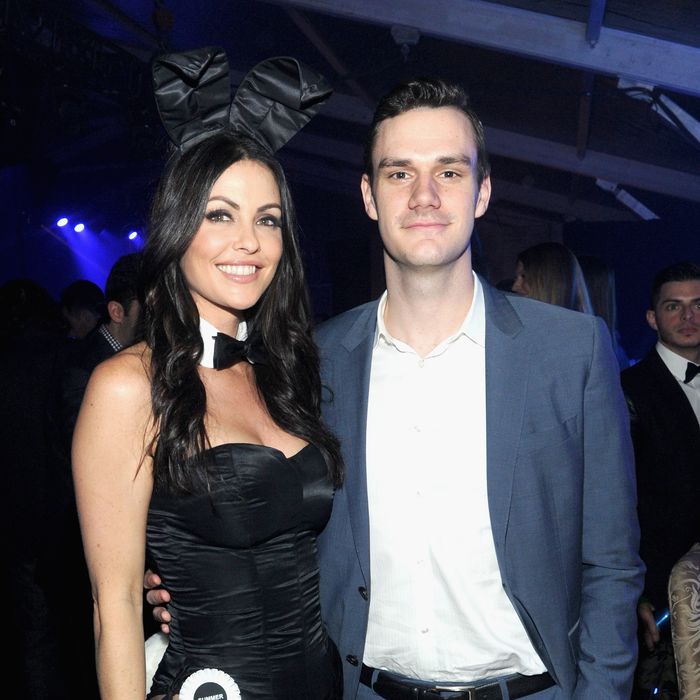 Cooper Hefner and a bunny.
Photo: Jamie McCarthy/2014 Getty Images
In the early hours of Saturday morning, hundreds of people drank Budweiser products, under six-tiered chandeliers made of beer bottles, at the Bud Light Hotel Lounge, the site of the Playboy Super Bowl party. Men wore suits and collared shirts while most women wore flammable dresses with cutouts and exposed zippers. There was some grinding, and headliner Nelly launched n-bombs through gaps in the strobe lights. Cooper Hefner, 22-year-old ambassador for his dad and the family brand, described Big Game Sunday at the mansion as "tame." "It's 60 to 100 people, and it's intimate family, friends my dad invites," Hefner said. "No one's getting naked for the Super Bowl." 
The scene on board the Bud Light ship was also fairly tame. On-hand for photo-ops were exactly fourteen Playboy bunnies. No actual money was lost at the roulette or craps tables. The History Channel was one of the sponsors. If the network attempted to intimidate with it's impressive ice-sculpted bar — made in the shape of a Viking ship theme to promote one if its shows, Vikings — it failed; midway through the party, the dragon mast resembled Scooby-Doo.
The only person who copped to placing a legitimate bet on the game was neither an athlete, actor, nor rapper. Angela "Big Ang" Rialo from the reality series Mob Wives won $25,000 last year. Some of that money will be spent catering the Super Bowl feast she's hosting this weekend at Drunken Monkey, her Staten Island bar.
If it weren't for attendees like Hart of Dixie's Scott Porter, you'd have forgotten the party had any ties to the Super Bowl. Of the Broncos, Porter said, "John Elway knew what he was doing. I really believed that, I didn't think that they would take a gamble. Tebowmania was at its peak, I mean it was flying so high. And John Elway said, 'We're going to bring in Peyton Manning.' I knew that he had some inside information that the rest of us didn't."  
Before his performance in front of a crowd that included Laura Prepon, Taye Diggs, Zachary Levi, Aaron Paul, and Jake Owen, Nelly spoke diplomatically about this uniquely American contest of ours.
"History will be made either way Sunday — either the first quarterback to win a Super Bowl with two different teams, or we'll have the second African American quarterback to win a Super Bowl period," he said. "So I'm just looking for a good game. Peyton Manning, he's one of my favorites of all time, and then again, I'm rooting for the young brother, so [laughs] I'm pretty much up in the air [laughs]."
I was certain I'd heard the most upstanding sentiment of the night. Then next to me, speaking about the man who bit off his ear, Evander Holyfield said, "Mike and I have always been very cordial."