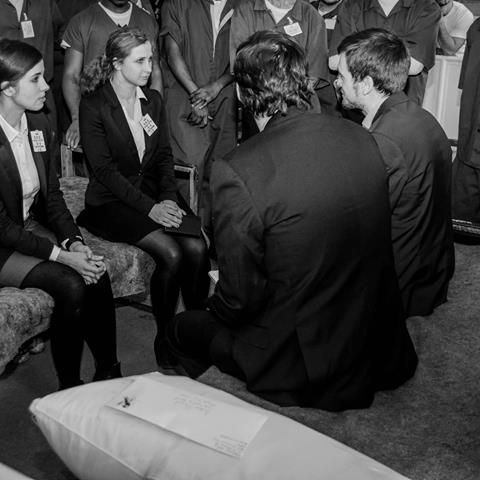 Pussy Riot visiting Rikers Island last month.
Photo: Erik Lohr/The Voice Project
Maria "Masha" Alyokhina and Nadezhda "Nadya" Tolokonnikova, the two international icons from the Russian protest group Pussy Riot, were detained in Sochi on Tuesday, supposedly because there was a "theft" at their hotel. But the women claim they've been harassed by police for days since arriving in Putinland — including a seven-hour detention on Sunday and ten hours with Russian security services on Monday. Perhaps not unrelated, Pussy Riot has been planning a special song to celebrate the Olympics, called "Putin Will Teach You to Love Your Motherland."
Nadya and Masha were granted amnesty ahead of the Winter Games, in a somewhat hollow, very Putin-like show of goodwill, after serving more than a year in prison for "hooliganism." Following their release and subsequent press tour, other members of the protest collective said the pair were no longer part of Pussy Riot, but today's actions say otherwise. CNN reports:
A group of about 10 officials in plain clothes stopped the two while they were walking down the street with the journalists, three other members of Pussy Riot who use pseudonyms, and two local activists, said "Tank," one of the anonymous bandmates. They asked them for some identification.

The officials said something about a theft in the hotel where the band members were staying, and that they suspected Tolokonnikova had something to do with it, Tank said.

The officers took the band members, activists and journalists in for questioning.
The pair documented their detention on Twitter and confirmed that they were in town to protest. "We are in Sochi to hold a Pussy Riot action," Tolokonnikova wrote in Russian. "On the 16th we were detained for seven hours," she added. "On the 17th, we spent 10 hours with the F.S.B. and today we are in a police wagon, accused of theft."
Upon their release from the police station, NBC's Richard Engel said Pussy Riot celebrated in style, having once again made waves in Putin's Russia: