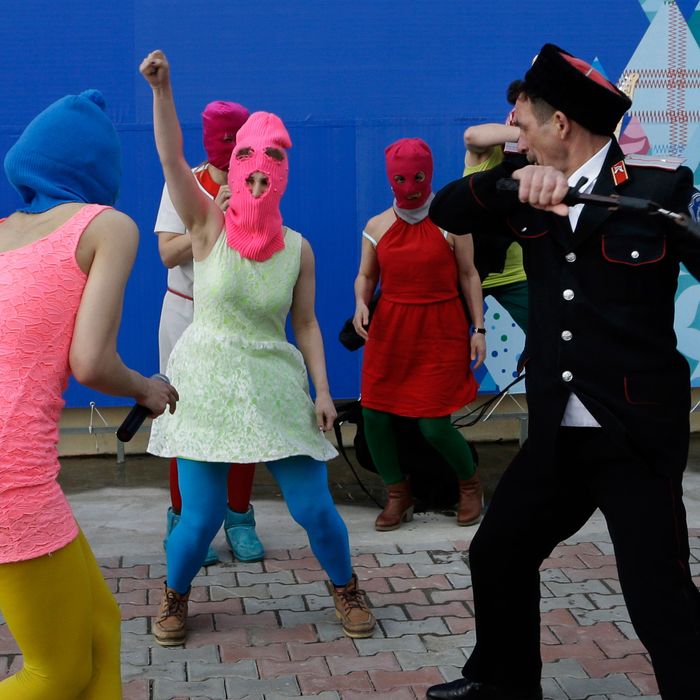 After a relatively quiet start to the Olympics, politically, the recently revitalized Pussy Riot is making noise. Led once again by its recently freed members Maria "Masha" Alyokhina and Nadezhda "Nadya" Tolokonnikova, whose recent distance from the protest group has been greatly exaggerated, the collective has successfully forced itself back into the news thanks in part to overzealous Russian security forces. Detained on Sunday, Monday, and Tuesday, Pussy Riot was back out there today, getting horsewhipped by members of the Cossack militia.
The AP reports:
Six group members — five women and one man — donned their signature ski masks and were pulling out a guitar and microphone as at least 10 Cossacks and other security officials moved in. One Cossack appeared to use pepper spray, another whipped several group members while others ripped off their masks and threw the guitar in a garbage can.

Police arrived and questioned witnesses, but no one was arrested.

The Cossacks violently pulled masks from women's heads, beating group member Nadezhda Tolokonnikova with a whip as she lay on the ground.
And of course there's video:
Nadya and Masha also tweeted about the run-in, displaying their battle wounds and once again making Russia appear horribly oppressive:
Update: "Nadya and I lie in adjacent hospital beds," reports Masha.
"Back hurts from the whip, the bruises and marks from the scourge, the temple-abrasion and bruise," says Nadya, according to a rough translation. "Lying in a hospital bed, Putin will teach you to love home."