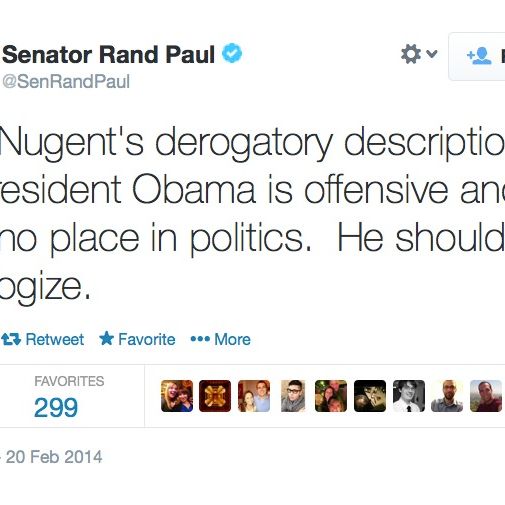 Seeing an opportunity to distinguish himself from potential 2016 rivals and/or behave like a decent human being, on Thursday evening Senator Rand Paul tweeted that Ted Nugent should apologize for the "offensive" remarks he made about President Obama. Declaring that you're not cool with people calling the president a "subhuman mongrel" and "chimpanzee" shouldn't really count as a bold move, but other Republicans couldn't bring themselves to offer such a strong defense of President Obama.
No one was surprised to hear such comments from the man who once told the president to "suck on my machine gun," but Nugent's recent remarks to Guns.com are getting more attention than usual since he's been campaigning for Texas Attorney General Greg Abbott, a Republican running to replace Governor Rick Perry when he steps down this year.
When asked about the controversy on Thursday morning, Perry told the Dallas Morning News, "That's Ted Nugent … That's just Ted. Anybody that's offended – sorry, but that's just Ted," adding, "I don't take offense, no. If we would spend a whole lot more time talking about how to create jobs instead of trying to pick apart people's descriptions of somebody, we'd probably get a lot further along in life."
Apparently Perry rethought his position before appearing on CNN later in the day. "That's pretty tough words," Perry said. "I wouldn't have used those words." After Wolf Blitzer unsuccessfully tried to badger him into admitting the remark was "disgusting," the governor added, "I got a problem calling the president a mongrel. … I do have a problem with that. That is an inappropriate thing to say."
In another interview that aired on CNN this morning, Senator Ted Cruz told Dana Bash he finds it "a little curious to be questioning political folks about rock stars." When pushed, he said that he doesn't agree with Nugent's sentiments, but added, "I will note, there's a reason Ted Nugent, people listen to him, which is that he has been fighting passionately for Second Amendment rights."
As for the man in question, Nugent has been feuding with CNN all week over its coverage of the incident, and yesterday he canceled an appearance on Erin Burnett OutFront, claiming to be sick. Instead, he responded on Thursday evening in a series of tweets:
Nugent posted another 41 tweets, but you get the idea.