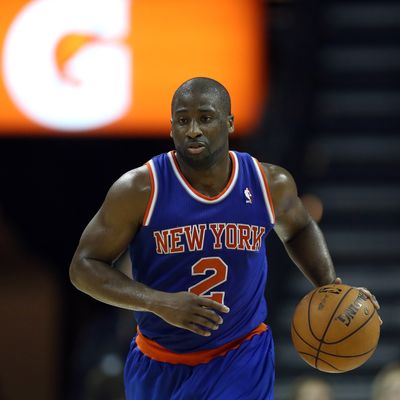 Photo: Streeter Lecka/2012 Getty Images
Last week, Raymond Felton was almost getting traded and griping about how people can't stop talking about that time he was fat, but now he has far bigger problems. The Knicks point guard was arrested early Tuesday morning on the Upper West Side on felony gun charges, including second- and third-degree criminal possession of a firearm, as well as fourth-degree possession of a firearm, a misdemeanor*. Felton's wife reportedly filed for divorce last week, and according to the AP, turned in the weapon after finding it in her home.
Felton turned himself in at 12:50 a.m. on Tuesday, following a loss to the Dallas Mavericks. As long-suffering Knicks fans know, Felton signed a three year, $10 million contract with New York ahead of last season, when the team opted to take him instead of investing in Jeremy Lin. That's working out just great.
*Early versions of this story, as reported by ESPN and the New York Post, said Felton allegedly pointed the gun at a woman, allegedly his girlfriend. A NYPD spokesperson later said the charges did not stem from a threatening act but because the gun was not registered to him. This post has been updated throughout.