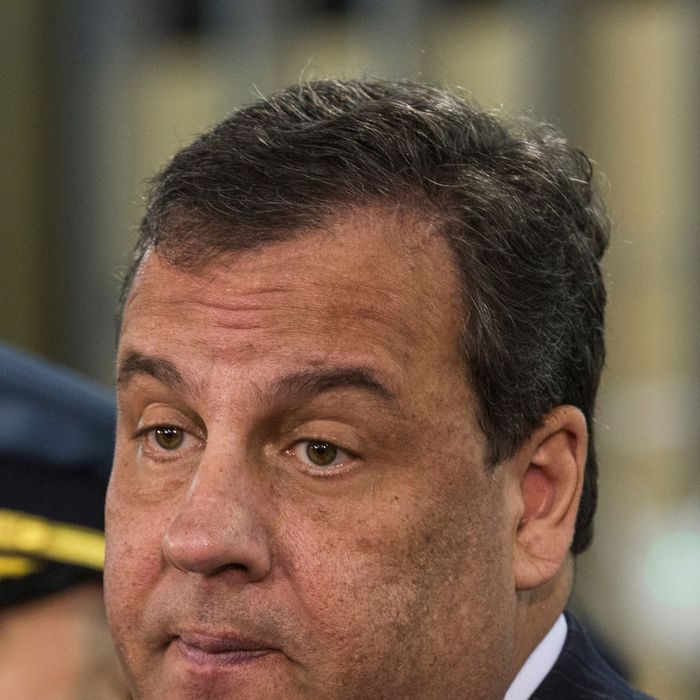 A veritable teddy bear.
Photo: Andrew Burton/2014 Getty Images
Plenty of news stories have emerged to fill out Chris Christie's image as a vindictive and sometimes unethical politician. But the Washington Post digs deep into Christie's youth and finds an episode suggesting just the opposite. The story, headlined, "Chris Christie less keen to play hardball as a young man," reports of an episode when Christie "passed up the chance to play legal hardball," and passes along the favorable comments of teammates and coaches  impressed with his maturity and restraint. It was "the most impressive thing Christie did in high school," reports a teammate. "I don't know if I could have handled it the way he did," recalls his coach.
What did Christie do that so impressed them? Well, he had been the starting catcher on the baseball team, and a better player transferred to the school and took his starting spot, and Christie decided not to sue to keep the kid out of school.
The idea of suing to block the transfer of the better catcher came from Christie's father, and Christie decided against it. The story notes that Christie did not reject this idea out of hand. (He "sought opinions about the idea from two of his closest friends on the team..") Nor did he reject it on moral grounds. Rather, he simply decided it was too risky. ("Christie thought his dad was wrong, given the apparent risks: The season might be forfeited, and the team and the town might be turned against their family.")
So Christie decided, after deliberating for a while, not to sue a kid for transferring to his school and being better than him at baseball, on the grounds that the community might not look kindly on that decision. This, concludes the Post, is evidence of Christie's generosity of spirit. Because what most people would do when beaten out for a starting position in high school is use the legal system to have the kid thrown out of school. We await future reports of other episodes displaying Christie's lack of vindictiveness. Like the time some dude cut in front of him in line at the deli, and Christie was going to have him beaten within an inch of his life but decided not to because there were security cameras.