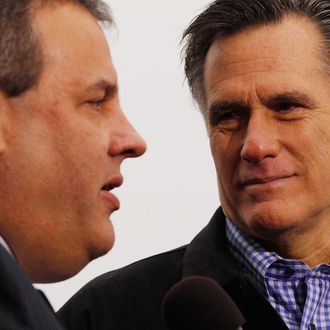 Former Massachusetts Governor and Republican presidential candidate Mitt Romney (R) and New Jersey Governor Chris Christie appear together at a campaign rally at a Hy Vee supermarket December 30, 2011 in West Des Moines, Iowa. Christie, a popular Republican governor who was urged to run for president earlier this year, appeared with Romney just days before the "first in the nation" Iowa Caucuses.
Photo: Chip Somodevilla/Getty Images
The Washington Post reports that Mitt Romney will appear with Chris Christie on Thursday at a fundraiser for the Republican Governors Association in Boston. These two should really consider writing a book of relationship advice. We could learn a lot about how to salvage a union after your partner hugs your arch-nemesis, leaks your vetting file to journalists, repeatedly pokes fun at your weight, and gets involved in an embarrassing traffic-related scandal.