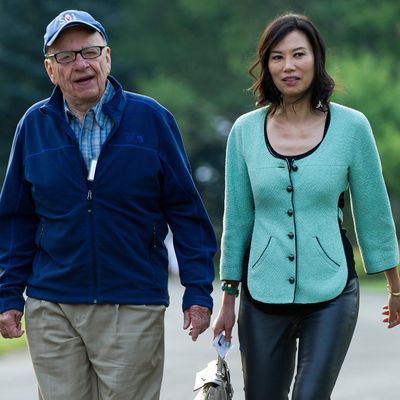 Before Tony.
Photo: David Paul Morris/Bloomberg via Getty Images
To history's greatest love letters — Henry VIII, Frida Kahlo, Napoleon — add Wendi Deng's note to herself about a fantasy of a man, as reported in the new issue of Vanity Fair. "Oh, shit, oh, shit," she allegedly wrote, "in broken English," before her divorce from Rupert Murdoch last year. "Whatever why I'm so so missing Tony. Because he is so so charming and his clothes are so good. He has such good body and he has really really good legs Butt … And he is slim tall and good skin. Pierce blue eyes which I love. Love his eyes. Also I love his power on the stage … and what else and what else and what else … " Tony with the butt? Yes, that's former British prime minister Tony Blair.
The rumors aren't new, but the details are. Last summer, amid the blockbuster news of the split between the 82-year-old media mogul and his ride-or-die wife a few decades younger, a rep for Blair denied, in the present tense, that anything was going on between the British politician and Deng: "If you are asking if they are having an affair, the answer is no."
But their friendship was well documented, with Murdoch biographer Michael Wolff all but winking, a year before the split, "Blair becomes one of Wendi's first official social conquests, in her developing role both as Murdoch social emissary and social power player. Wendi Murdoch becomes a curious wrinkle in the power equation — a way for Blair to see himself as having control of Murdoch, of joining with Wendi to handle him." Blair also happens to be the godfather of Grace, one of Rupert and Wendi's young daughters.
Now, post multi-million dollar divorce settlement, Vanity Fair is making things very Downton Abbey. It all started with the "backstairs rumblings of servants," according to the story. Wendi and Tony were reportedly spotted at the Murdoch cattle ranch in Carmel, California, sans poor Rupe.
Of course, whispers of Deng's extramarital activities were also common as she grew into her own social force. "I had thought they had come to an arrangement and were happy with it," one News Corp. executive said upon news of the divorce. But according to a Vanity Fair source, her affairs "started to multiply and be amplified over the last year. In particular, the two relationships that have been commented on [in the press]: Eric Schmidt [the executive chairman of Google] and Tony Blair." (In a joint statement, Wendi and Rupert said, "Given the complicated dynamics of our family, we made the decision early on in this process not to engage in public allegations or respond to negative claims.")
"Complicated dynamics" is right: This good dirt about the highest rungs of world power also happens to involve a man who gladly spends his fortune on awesomely depraved tabloids, and is known to have a hand in all of it. "I find that in hearing rumors about what went on with Wendy and Rupert, there's a sort of double-agent phenomena where people will say Rupert was the victim and she was allegedly cheating on him, and someone else will say, 'Well, Rupert himself is spreading that rumor to make himself look like the victim so that he won't have to give her as much.' And that she is the victim of Rupert's smear," longtime gossip columnist George Rush told Daily Intelligencer last year. "So, it's sort of like that final scene in The Lady From Shanghai with the mirrors."