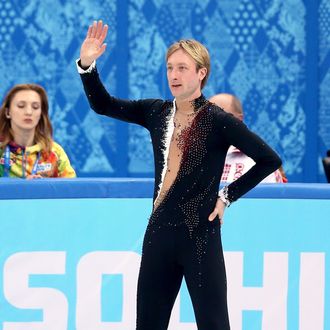 Photo: Matthew Stockman/Getty Images
In an Olympic upset of the first order, Russian figure skater Evgeni Plushenko, the 2014 team skating gold medalist and a local favorite for the men's individual competition, has withdrawn after injuring himself during practice. He pulled out just minutes before he was due to skate, NBC reports. He held onto his back during practice, and "when they announced his name as the next performer, he skated up to the judges and a male voice announced in Russian 'Plushenko cannot participate due to a trauma (injury)'." The 31-year-old skater, who won gold in 2006 and silver in 2002 and 2010, had a tough performance on Sunday, apparently aggravating a back injury even as he won the gold in the team competition. According to Time, he's been told that one more bad fall could paralyze him.
BuzzFeed posted this Vine of Plushenko apparently injuring himself during his warm-up run.
Update: Plushenko retired after withdrawing from the competition. "I think it's God saying, 'Evgeni, enough, enough with skating,'" he told the Associated Press. "Age, it's OK. But I have 12 surgeries. I'd like to be healthy."