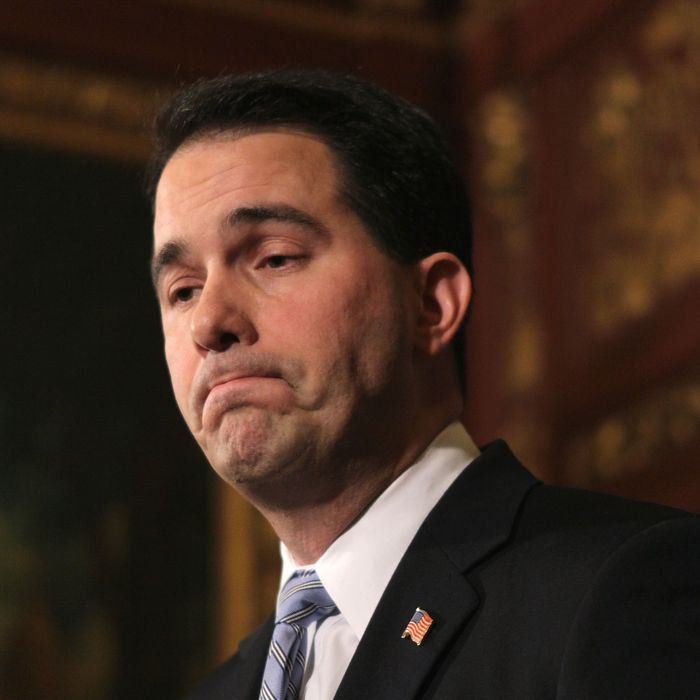 Photo: Scott Olson/2011 Getty Images
While the story has yet to entrance the national media, Wisconsin Governor Scott Walker is involved in a scandal that's rather similar to Chris Christie's Bridgegate debacle – if you replace the George Washington Bridge with a secret wireless router in a county executive's office, and a massive retaliatory traffic jam with illegal campaign coordination. In the past few years, two Walker aides and several others were convicted in an investigation into the blurry (or non-existent) line between Walker's staff when he was Milwaukee County executive and his first gubernatorial campaign. Walker was never charged, but some of the 27,000 emails and hundreds of court documents released Wednesday suggest he was aware of the secret email system that allowed staffers to illegally coordinate their activities.   
According to previously released court documents, in 2009 and 2010 Walker's taxpayer-paid county staff brought laptops and a secret wireless router into the office, allowing them to conduct campaign business on personal email accounts while on the clock. The staffers used the system frequently, discussing fundraising, endorsements, and the wording of news releases.
Walker has always denied any wrongdoing, but there are several suggestions that he knew about the system in the newly released trove of emails. While telling a colleague how to use the system and join the "inner circle," one staffer said, "I use this private account quite a bit to communicate with SKW and Nardelli," referring to Walker and his chief of staff Thomas Nardelli. Aides discussed Walker's desire to hold daily conference calls with campaign and county workers to "review events of the day or of a previous or future day, so we can better coordinate sound, timely responses, so we all know what the others are doing."
For what it's worth, it appears that after the Milwaukee Journal Sentinel reported that a county employee spent most of her day posting pro-Walker comments online, prompting her resignation, Walker tried to put a stop to the coordination. "No one can give them any reason to do another story. That means no laptops, no websites, no time away during the work day, etc," the future governor said in an email to a staffer.
While Democratic groups were eager to draw comparisons to potential 2016 rival Chris Christie, Walker's office downplayed the new information, noting that while it was just made public, prosecutors have had it for years. "The recently released communications of a county staffer from several years ago are part of a legal process that was completed early last year," said Jonathan Wetzel, Walker's spokesman. "Governor Walker is confident that during that legal process, these communications were thoroughly reviewed by the authorities."
Naturally, there are some dumb and racist conservative chain letters among the 27,000 emails, but the new batch of information may be merely embarrassing for Walker, not career-ending. Those who want to derail Walker's reelection bid this year, or his presidential chances in 2016, can pin their hopes on the investigation into possible campaign-finance violations during the state's 2012 recall election, which is still ongoing.