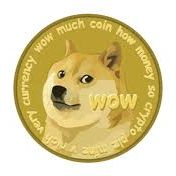 "Look at that guy," says Sarah Dibé, a 21-year-old graphic designer, pointing to a dog meme pasted to the side of piñata. "He looks better than the presidents on our bills."
Dibé is talking about Dogecoin, a digital currency represented by the Shiba Inus doge meme, whose furry mug and doggie thoughts, usually written out in colorful Comic Sans — "wow"; "much awesome"— exploded on the Internet last year. Two programmers started Dogecoin in December as a joke, but it caught on, and is now one of the top digital currencies. Basically, a less valuable Bitcoin that people use because, hey, who doesn't like an adorable dog with bad grammar?
The Dogecoin community, or Shibes, mostly hangs out on the interwebs in subreddits, but decided to meet up in person Friday night for the first #Dogeparty, hosted at the Bitcoin Center in lower Manhattan, to celebrate the meme, the Dogecoin, and, said one flyer, "the joy of life." Dogecoiners say their community is a generous one, and money often moves in the form of tips, or gifts to charitable causes. Members raised $30,000 — one Dogecoin is $0.0012 — to help send the Jamaican bobsled team to Sochi. The NYC Shiba Inus Rescue came to the #Dogeparty with its dogs, accepting donations in Dogecoins.
"Its existence is absurd enough to be successful," says Brendan Parks, a 21-year-old college student, who started "mining" for Dogecoins early. Many say they were interested in Bitcoin, but with its limited availability and cost, Dogecoin gave them an in — a cheerful, cuddly in — to digital currency. Others just really like that meme.
Organizers billed the event as a costume party, but only a few — including two NASA astronauts, a Chewbacca, and an "Occupy" vampire octopus, complete with tentacles representing the big banks' hold on our monetary system — dressed up. Most people — guys outnumber girls — just mill about in skinny jeans with a piece of masking tape on their shirts identifying them by their Twitter handle. There's no alcohol, which works out, as more than a few high schoolers are here. I found one 15-year-old from New Jersey who snuck out of his house to come with his friends, who apparently have chiller parents.
Shibes have their phones out, many trading, buying, and selling Dogecoins through what looks like a QR-code with the boxes in the shape of — yes — the doge.  You can buy doge food (mashed organic yams), or doge t-shirts. Dibé peddles her homemade cupcakes iced with the Dogecoin "Đ" (selling price is Đ2.00 minimum; max is up to you). A laid-off IT worker sells Apple accessories, and an artist draws doge pictures. One teen from Brooklyn, wearing a doge onesie, pays Đ4200 (about $5) for a picture of an astronaut doge, off to the moon.
Most keep quiet on their Dogecoin net worth (it's a rude question, one person says when I ask), but the auction brings out spenders. Up for bid are that piñata, an oversized papier-mâché doge mask, and a balloon-animal doge. Evan Kaloudis, 22, won the piñata with the top bid of Đ25,000 — a little less than $35 bucks. What's he going to do with a doge-meme piñata? "I don't know," he says. "Leave it at my girlfriend's."
All evening, one of the event organizers, 24-year-old Ben Doernberg, reminds people to stick around for a historic event, which turns out to be a slow march to the Charging Bull on Wall Street, where the group drapes that papier-mâché mask over the bull's head. Doernberg yells "to the moon" and they all scream back. A slow-clap "doge" cheer starts. Two NYPD officers stand off to the side looking like they've never heard of Dogecoin, and probably never wanted to.
Before the cold sends people back inside, or to the over-21 after-party, a reveler takes a stick and whacks the piñata. Candy and confetti fly everywhere. "Fuck yea, Milky Way!" someone yells, and people start scrambling for loot underneath the now-named Doge of Wall Street. Which is probably thinking something along the lines of "Such awesome. Wow."