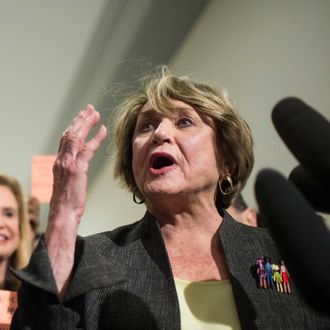 Photo: Bill Clark/? 2014 CQ Roll Call
It is still too early for House of Cards spoilers. Full stop. The second season hasn't even been up for a week, so if we apply Vulture's suggested statutes of limitations on spoilers (produced pre-Netflix shows) and call this somewhere between a narrative show and a movie, it's still way too early to blow it up. But U.S. Representative Louise Slaughter, of New York, came awfully close to doing so with a press release about how the show had mentioned her own work to change an Air Force sexual assault prevention brochure. In fact, if you were wondering what issues Claire Underwood might adopt this season, then this was a legit spoiler.
The real-life brochure, which the Air Force pulled in 2013, had instructed sexual assault victims: "If you are attacked, it may be advisable to submit than to resist." That was the line Slaughter successfully got changed, an effort the show rendered by having Underwood and the first lady meet with the joint chiefs of staff, who defend the military's handling of sexual assaults. "This is from your own sexual assault prevention literature, and in it, it says 'in some cases it may be advisable to submit than to resist.' I think it's quite clear that there's still room for improvement," Underwood says in the show.
It sounds like a minor plot point, and reasonable people can still enjoy the show after hearing about it. But please, other real people whose issues the show has taken up, keep your excitement to yourselves for at least another week, let's say.