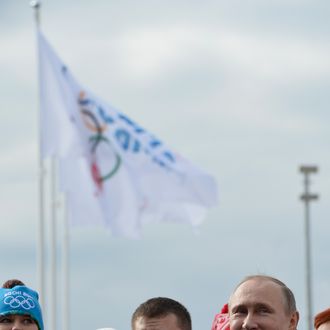 Photo: Pascal Le Segretain/2014 Getty Images
The United States has found a way to keep those heading to the Sochi Olympics from dwelling on the possibility that they'll be rooming with a stray dog in a hotel with no running water for the next few weeks. On Wednesday, officials revealed that the Department of Homeland Security has warned airlines flying into Russia to be on the lookout for explosive materials hidden in toothpaste tubes, which could be assembled in flight or at the Olympics. A law enforcement source told CNN that the threat doesn't involve the United States specifically. "It's real. It's real and we got very good information," said the source. "It's based on a credible source. We're taking it seriously. So are other countries."
A Homeland Security official would only confirm that out of an "abundance of caution," it regularly shares "relevant information with domestic and international partners," such as those handling the games in Sochi.
Recent suicide bombings in Russian cities and several threats from terrorist groups have raised concerns about security in Sochi. The city is also about 300 miles away from the North Caucasus, where Russia has been battling Islamic militants. Forty thousand police and special services officers are being deployed to protect the games, and President Vladimir Putin said on Wednesday that intelligence agencies from several countries will be working together day and night at the Sochi Olympics security headquarters.
Secretary of State John Kerry confirmed this week that the U.S. has "cooperated enormously" with Russian security forces, adding "anybody who wants to go to the Olympics, which are just a great event, should go."
Unsurprisingly, Rep. Peter King, chairman of the House Homeland Security Committee's subcommittee on terrorism and Intelligence, was far less reassuring. He told CNN that American in Sochi are "reasonably safe," but he wouldn't go to the games himself. "Just as a spectator, I don't think it's worth the risk," he said. "I mean, odds are nothing is going to happen, but the odds are higher than for any other Olympics, I believe, that something could happen." It seems hideous Team USA sweaters are the least of America's concerns.