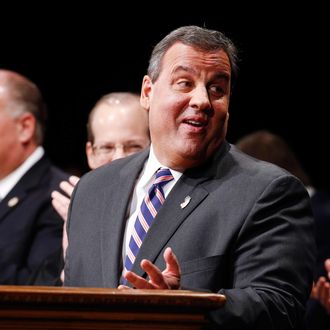 Photo: Jeff Zelevansky/Getty Images
Chris Christie had a rough week, but on Sunday things finally started looking up for the New Jersey governor. Aide Christina Renna, who reported to former Deputy Chief of Staff Bridget "Time for Some Traffic Problems in Fort Lee" Kelly, revealed that she resigned on Friday. That may sound bad, as Renna was one of eighteen people subpoenaed in the Bridgegate investigation, but there's a silver lining:  Christie won't have to fire off any angry e-mails over her departure. The former director of intergovernmental affairs claims she's been thinking of leaving since before the election, and continues to "respect and admire" the governor. "The transition from term one to term two is a natural time to pursue an opportunity in the private sector," Renna said. Surely it's just a coincidence that thousands of pages subpoenaed by the State Legislature must be handed over to investigators on Monday.
In other good news for Christie, the organizers of the Conservative Political Action Conference, or CPAC, announced that he will speak at the annual conference, which is scheduled for March 6-8. When Christie was snubbed last year, Al Cardenas, chairman of the American Conservative Union, which runs the event, explained that he hadn't been invited because "CPAC is like the all-star game for professional athletes; you get invited when you have had an outstanding year." CPAC can look past multiple federal and state investigations, as long as you haven't physically embraced President Obama in the past six months.