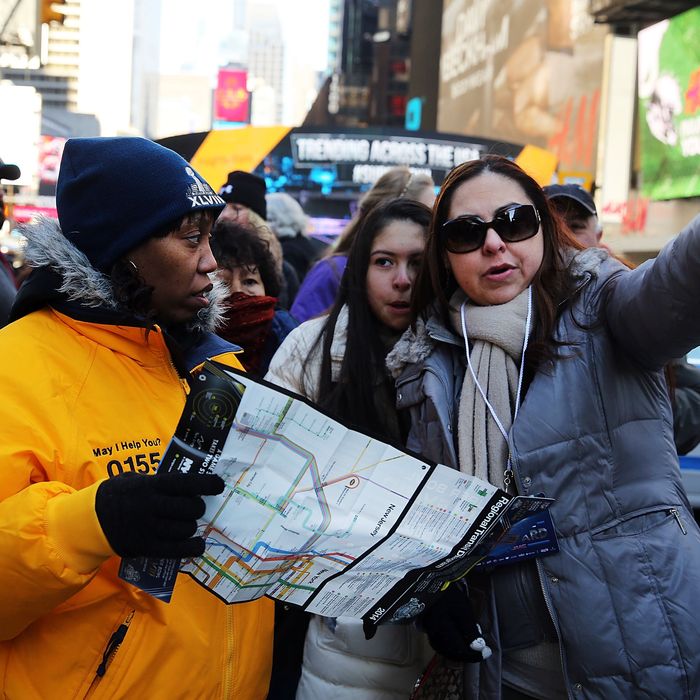 Photo: Spencer Platt/2014 Getty Images
Spurred by talk of money to be made from 400,000 visitors swarming the tri-state area for Super Bowl XLVIII, locals have been trying to make bank by renting their apartments to Seahawks and Broncos fans. One hopeful was asking $6500 for six nights for a two-bedroom in StuyTown. (Even Kevin Jonas, the Jonas Brother with the reality show, put his Denville, NJ mansion up on the short-term market for $20,000 a night — the money's for charity, though.)
If you post it, they will come, right?
Not quite. We spoke to, and messaged with, nearly a dozen Craigslist and Airbnb posters and, as of two days ago, found only one, Stina, who had actually booked a guest. (She's advertising a room in her Weehawken apartment for $200 a night.) Despite being minutes from MetLife Stadium, "the responses are absolutely fewer than expected," she wrote in an e-mail. 
No kidding. Sandra, who lives in Yonkers, says she posted her three-bedroom house 14 miles from the stadium on Craigslist three weeks ago, for $5000 for Thursday to Tuesday, but hasn't gotten a single call (as of Tuesday.) Neither had Amy, who listed her five-bedroom in Fort Lee, available for $3500 (daily maid service and an Escalade included), a week ago. "I thought in my situation I posted it too late," she says.
Jane, who's asking a relatively affordable $200 a night for her Morningside Heights apartment, says she's had her ad up a week too, and hasn't heard a peep. Ditto Tabitha, who listed a bedroom in Washington Heights apartment for $65 a night on both Airbnb and another Website. "I actually haven't received any Super Bowl rental inquiries at all — not even one!" she says.
Angela Jacobs, a restaurateur with a 2100-square-foot townhouse "17 minutes away from the stadium," posted in the Denver, Seattle, New Jersey and New York sections of Craigslist. "No calls. Nada. I'm surprised," she reports. "It's such a big event! Everywhere on TV it's Super Bowl, Super Bowl."
Leslie Johnson lives in Louisiana and owns a time-share on West 57th Street, a quick walk to the Super Bowl Boulevard and still open for $2000 for four nights. She thinks the weather is partly to blame. (She'd booked the week thinking there'd be plenty of football fans looking for a place to stay.) "Why is the Super Bowl being held at an outdoor stadium in the northeast?" (Last year, when the game was at the Superdome, she had no problems finding takers for her listing near New Orleans.)
East Rutherford resident Chris Vogel's situation at least looks promising. He lives a mile from the stadium and is offering an extra room on Airbnb gratis, in exchange for two tickets to the game. One NFL employee and three Denver fans so far have reached out — no Seahawks, though — and he has received messages from Paris, San Francisco, and New Jersey. (That last one was a puzzler). He's still waiting to make firm plans. "I've had a lot of people looking at [the Airbnb ad], like 70-plus a day, but no one has come up with free tickets yet."