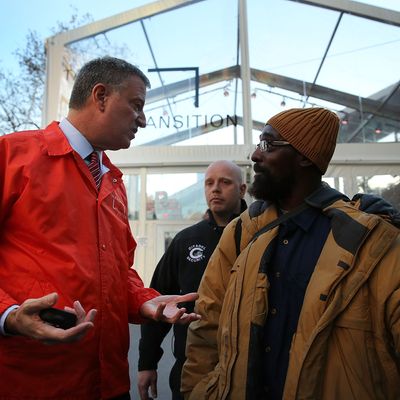 Mayor De Blasio answers a question during a visit to the Talking Transition tent in November.
Photo: Spencer Platt/2013 Getty Images
Talking Transition was an odd enterprise during its two-week-long run in mid-November: It was an earnest attempt at broadening the public dialogue that also felt like a very expensive 3-D commercial for the liberal values of the dawning De Blasio era. Its headquarters, a giant white tent at the corner of Canal and Varick streets, paid for by George Soros and a group of major philanthropic foundations, got plenty of attention. Far less visible was Talking Transition's effort to measure the public mood by sending canvassers throughout the city. The survey results make for an interesting sidebar to Mayor De Blasio's first state of the city speech later today.
The Talking Transition data report is an appropriately puzzling hybrid: It's an intriguing, ambitious, neighborhood-by-neighborhood probing of viewpoints, and it's also possibly the largest, best-connected attempt to use a poll to shape New York government policy. The conclusions are both obvious and interesting, especially for how they line up with De Blasio's campaign themes, and for how they highlight the difficulties he faces turning rhetoric into reality.
For instance: Everybody thinks the rent is too damn high. That's no surprise coming from residents of, say, Tribeca or Cobble Hill. Yet Talking Transition found the complaints were just as strong in St. George and on Park Avenue. There are drastic splits along racial, geographic, and economic lines on other questions, though. The only areas sanguine about job prospects were Manhattan south of 96th, Park Slope, and Carroll Gardens. Perceptions of public safety and public schools were starkly negative in the South Bronx, Upper Manhattan, and Central Brooklyn, and largely positive elsewhere. Last fall's election results, of course, showed that De Blasio's "tale of two cities" slogan was very potent; these survey results provide some more evidence as to why.
The statistical methods are a little unusual. Unlike most pollsters, Talking Transition relied on quantity to try to capture an accurate sample of the city's mood, instead of filtering by demographic categories to develop a "representative" sample. It quizzed nearly 70,000 people – including tourists as well as residents – though the number of responses to individual questions varied widely.
"We designed the project as a public-engagement tool," says Danny Fuchs, the project director for Talking Transition. "We wanted to provide data that will be useful to commissioners in the new administration." Getting a hearing hasn't been difficult: Fuchs is a principal at HR&A Advisors, the real-estate consulting firm where Carl Weisbrod, De Blasio's new head of city planning, was until recently a partner, and last week he briefed Anthony Shorris, the administration's chief of staff, on the survey results. "We hope they end up using this report as reference as they unveil more and more policies," Fuchs says.
In many ways, De Blasio's transition really ends this week. Today, at noon, he'll deliver his first State of the City speech, and on Wednesday he will unveil his first budget proposal. De Blasio has been plenty active since taking office – campaigning to raise taxes on the wealthy for expanded pre-K, delivering snowstorm bulletins – but these two acts will greatly flesh out how he intends to realign government. This afternoon's speech, at LaGuardia Community College, in Queens, should include a proposal to broaden the reach of the city's "living wage" law. Union wages, though, are the tougher lift, and De Blasio's budget plan will be scrutinized for signals about how he intends to shift money to deal with the imminent negotiations. Yes, it's still early: De Blasio is only five weeks into the job. But blaming Michael Bloomberg for the open labor contracts and the federal government for cuts in aid will soon sound old. The Talking Transition tent is long gone, and the problems are all Mayor De Blasio's now.