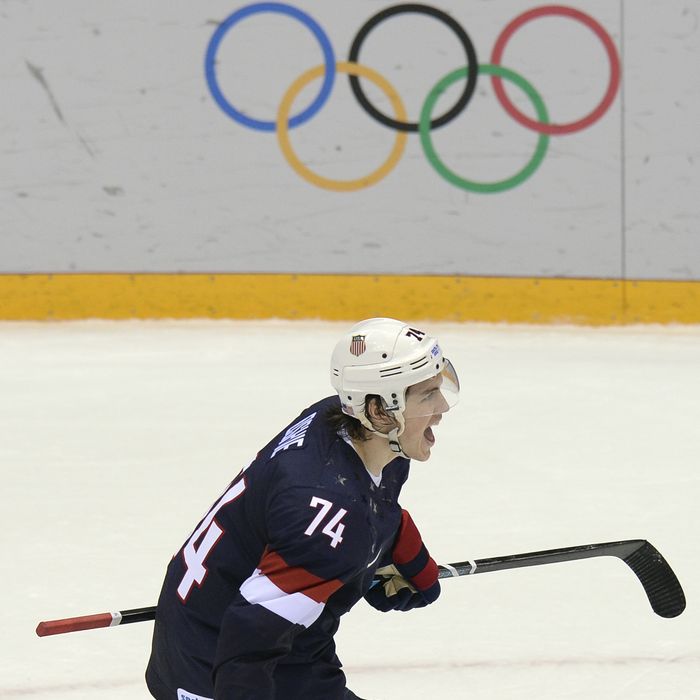 T.J. Oshie celebrates his shootout winner against Russia.
One doesn't need to be a hockey fan to understand the significance of a game between the U.S. and Russia. But unlike in 1980, when a team of American college kids pulled off the "Miracle on Ice" by shocking the dominant Soviet hockey machine, the United States and Russia entered these Sochi Games as two of the elite teams on the planet. Both rosters are stocked with NHL stars, and both figure to contend for a medal. And so today's preliminary-round game lived up to the hype: After a back-and-forth regulation and a five-minute overtime, the Americans triumphed in an absolutely bonkers shootout, setting themselves up to win their group if they can beat Slovenia tomorrow. America, meet your Olympic shootout hero, T.J. Oshie.
Olympic shootout rules are different than they are in the NHL. In the Olympics, once a team has sent its first three shooters out, it can keep sending out the same players round after round as long as the shootout remains tied. (In the NHL, a team would have to use all eighteen of its skaters before it can repeat shooters.) And so once today's U.S–Russia game remained tied through regulation, overtime, and the first three rounds of the shootout, the Russians kept using Ilya Kovalchuk and shootout wizard Pavel Datsyuk. The Americans, meanwhile, used just one man, T.J. Oshie. And Oshie came up huge.
After beating Sergei Bobrovsky to open the shootout scoring, Oshie added three more goals in the final five rounds to secure the victory for the Americans. Oshie, who plays in the NHL for the St. Louis Blues, was one of the last players selected for the team, according to Scott Burnside's deeply reported account of how Team USA's brain-trust assembled its roster. The team's coaches pushed hard for Oshie to be included, in part because of how useful he could be in a shootout. Today, his selection paid off, for just that reason.
This was the kind of back-and-forth game you'd expect between two of the world's best national teams. The Russians mostly controlled play early, scoring first before the U.S. tied the game on a Cam Fowler power-play goal. Then the Americans would take the lead, again on the power play, on a Joe Pavelski goal off a sick Patrick Kane pass. (I'd pay a lot of money to watch a post-game meeting between Alexander Radulov, the Russian player in the penalty box for both U.S. goals, and Vladimir Putin, who was at the game and really, really wants a men's hockey gold medal for his country.) Datsyuk would answer back for Russia with his second goal of the game, and then Russia appeared to take the lead on a Fedor Tyutin goal, but it was waved off because the net had been every-so-slightly knocked off its moorings.
And so after Bobrovsky stoned Patrick Kane on an overtime breakaway, it was onto the shootout, where Oshie (and American goalie Jonathan Quick) earned the U.S. the extra point that will give them first place in their group if they take care of business tomorrow against Slovenia. Four years ago, the U.S. won its group, thanks in large part to a dramatic preliminary-round victory over Canada on their home ice. Today's win, over Russia in Sochi, had a similar feel to it. The Americans are no longer huge underdogs in Olympic play, but with the sport's talent so spread out among various countries, they're not exactly favorites, either. (I picked them to finish fourth in Sochi, behind Canada, Sweden, and Russia.) But this team has enough talent to win gold, and after a dominant win over a decent (if disappointing) Slovakian team and another over a Russian team under tremendous pressure to win, they're looking good as the knockout round approaches.
Before that, though, they'll play one more preliminary-around game, against Slovenia tomorrow morning. The puck drops at 7:30 a.m. Eastern time. Set your alarm clocks right now.