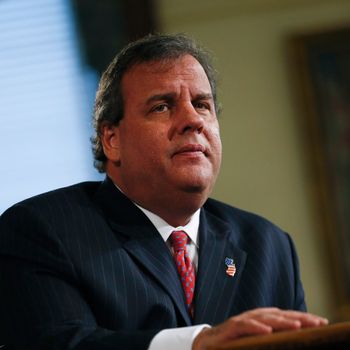 Photo: Jeff Zelevansky/Getty Images
Before clogging of the George Washington Bridge became an ongoing nightmare for Chris Christie, it was just a traffic jam. The jump from local inconvenience, as reported in New Jersey's Bergen Record, to national scandal started in The Wall Street Journal way back on September 18: "Bridge Jam's Cause a Mystery," reported Ted Mann and Heather Haddon. Mann, the transportation reporter for the paper's Greater New York metro section, stayed on the story through the fall as it bloomed into one more about bully politics than cars — culminating in the Record's release of the "Time for some traffic problems" e-mail — and has written more than 30 articles on the subject since.
But it almost didn't happen for him: Mann was in the process of graduating to another focus at the paper until Christie crashed in and kept him put, for now.
"A while back, Ted applied to cover a very important beat — industrial conglomerates GE, Honeywell, and United Technologies," the Journal's New York bureau chief Bob Rose told Daily Intelligencer. "We asked him to stay on as the Bridge story played out and we looked for a successor."
"He'll still be involved in Bridge coverage with Heather Haddon, our New Jersey reporter, as needed after he moves to his new beat in the next few weeks," Rose added. "One of the great things about the WSJ is we have a lot of opportunity for talented reporters to take on new challenges, and that's what Ted will be doing, as much as I hate to see him go."
Greater New York launched in 2010, but the bridge scandal has been called "the biggest coup yet for a section that had once been viewed as the stepchild of an august business broadsheet." Mann told Capital New York, "we didn't know that it would get to be as big as it did, but we knew that it potentially could be this big." As a departing transportation reporter, it's not a bad way to go out.