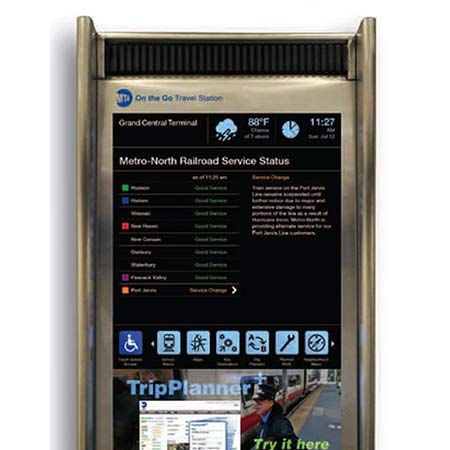 The robots are here to make your commute easier. (Well, not you, but you know, tourists.) The long-teased touch-screen maps, referred to officially as On the Go! Travel Stations, have debuted in Grand Central to good reviews. Created by the design firm Control Group, which is also paying for the pilot program with hopes of eventual advertising revenue, the screens are like giant smartphones, with apps for food and attractions, news, and weather, in addition to directions and service-change info.
There are now 18 kiosks spread throughout Grand Central, and more to come citiwide throughout 2014. Gizmodo has a video demonstration:
And for the germophobes (a rightful fear considering how much bacteria is down there), Control Group assured Fast Company in a statement, "One of the principles of our design was to minimize touch and gestures with one click navigation. Also, the DST display works with any object — finger, nail, pen, etc. And the screen is in [a] waterproof enclosure to enable regular cleaning. And just like the thousands of Metrocard machines in the NYC subway system that feature a touchscreen, the MTA will maintain the new kiosks."
So, it's probably no grosser than anything else you touch in public every day.