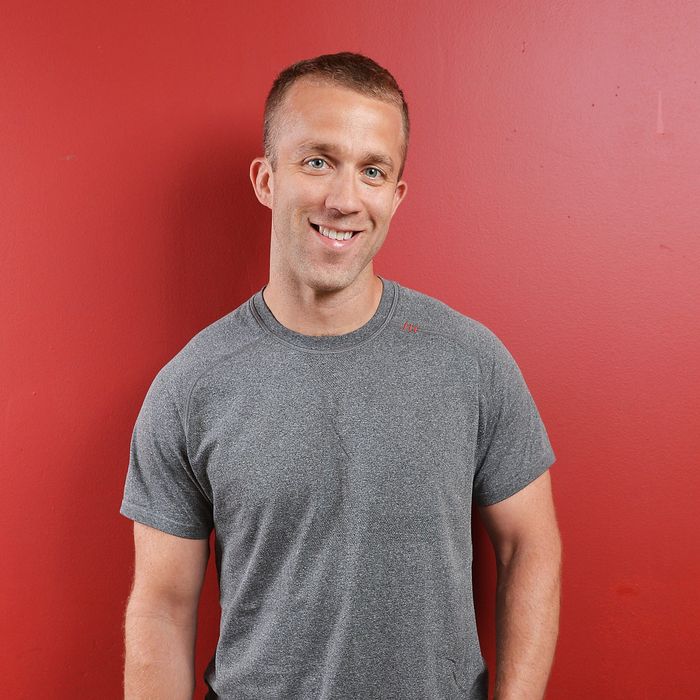 Assholes exit first?
Photo: Mike Coppola/Getty Images
Tucker Max, the controversial author best known for the deplorable, booze-fueled sexcapades he chronicled in books like I Hope They Serve Beer in Hell and Assholes Finish First, isn't the first person you'd think to entrust with your growing business. But in recent years, Max, like a number of other celebrities from the entertainment industry, has jumped headfirst into the world of start-up investing.
Investing in start-ups used to be the province of venture capitalists and CEO millionaires with cash to spare. But now, with the JOBS Act and the introduction of services like AngelList, anyone with money and a following can play along. In recent months, Justin Bieber, Ryan Seacrest, and Lady Gaga have all made early stage venture investments. The celebrity floodgates have opened, and Max is using the proceeds from his best-selling books to enter the casino. According to his AngelList profile, Max has invested in 11 start-ups, and is involved with several more that he says he can't detail, owing to non-disclosure agreements.
"I made a pretty good amount of money selling books," Max told me in an interview this week, when I asked why he'd turned his attention to start-ups. "I was looking around thinking, where can I put my money? And at the same time, I happened to have a lot of friends who are in tech and start-ups … I'm famous enough that there's a ton of tech people who got to know me in other ways, and they said, 'Holy shit, this guy knows ten times more about advertising than these people I'm paying a bunch of money to!'"
Max found that, as someone who clawed his way to the top of the bestseller lists, his marketing skills were in high demand among the start-up crowd. But predictably, because of his bad-boy reputation, many were hesitant to align themselves with him publicly.

"At first I was like, what the fuck? And I realized, oh, right, these are small companies. They don't want to have to answer questions about why I'm their adviser," Max says.
Eventually, start-ups overcame their hesitations (or got desperate enough to take his money) and began letting Max in the front door. Friends like 4-Hour Body author Tim Ferriss and Kamal Ravikant (brother of AngelList founder Naval Ravikant) helped introduce Max to their friends in tech, and Max began writing small checks – most between $10,000 and $50,000 – to a series of start-ups. He started with companies close to his Texas home – an Austin-based liquor company called Deep Eddy Vodka, and another Austin-based start-up called Yellowbird Hot Sauce. (He's since branched out to investments in companies like Regalii, a mobile money-transfer start-up, and a marijuana edibles site called Stoner's Cookbook.)

Max has no formal business training – he's a Duke law school graduate – but he claims his lack of expertise hasn't put him behind more experienced Valley vets when it comes to picking winners. "Not to sound like an arrogant shit, but I'm a really smart guy," Max says. "I'm not Marc Andreessen, but I'm two or three levels below that."
One problem Marc Andreessen doesn't have is an army of twentysomethings who grew up reading stories of his with titles like "Tucker tries buttsex; hilarity does not ensue." Max the investor has tried to distance himself from Max the author (he even has a separate, more austere website for his venture career), and he says that his books have served as a good litmus test for whether he wants to invest in a given company.

"If at any point in the first meeting, aside from the very end, the founder wants to ask me about my stories or girls or drinking, that's a major red flag," he says. "It's one thing for someone to say, 'I really like your books.' But when someone is a slavering fanboy, especially a dude, it makes me really worried about that person."

Max's brusque demeanor has turned off some potential collaborators. (One travel site founder wrote in a blog post called "What It's Like to Meet With Tucker Max" that he "never felt there was this possibility of open interaction, as [Max] never ceded control of the conversation.") But Max defends his use of a strong filter, especially since many of the companies seeking his help come to him with preconceived notions of what will interest him.

"Bang With Friends came to me," he says. "I was like, 'Look, I understand why you came to me. But, like, their app was stupid. I had a bunch of pickup artist clowns come at me with ideas for stupid fucking hookup apps. Those people were all awful. Their ideas were awful."
In addition to doing one-off deals, Max has used private-market exchanges like SecondMarket and MicroVentures to buy stock in private companies like Palantir and Twitter. These investments are doing well, he says, but he's missed out on some home runs. He was offered several chances to buy Bitcoin several years ago, at prices between $5 and $50 apiece. (Bitcoin is currently trading around $800.) "I could buy my own fucking private plane if I had bought Bitcoin," he says. "No matter what I do in start-up investing, I'll never make more than I would have on Bitcoin."
There's a danger in the celebrity culture developing around venture capital. Starlets and bestselling authors might know more than the average investor about marketing and self-promotion, but they're novices at the kinds of nuts-and-bolts business advice an experienced entrepreneur or investor can provide. And celebrity-driven investments haven't always fared well. Shots of Me, a selfie-sharing app that counted Justin Bieber among its initial investors, fizzled after an initial publicity burst. So did Blackjet, an Uber for private planes that was backed by Jay Z and Ashton Kutcher. Naval Ravikant, the founder of AngelList (and brother of Max's start-up mentor) has bemoaned the influx of "celebrity investors or celebrity entrepreneurs" into the tech scene, which he says "leads a little bit to the Hollywoodization of Silicon Valley."

What makes Tucker Max think he can do better than other celebrities? Well, he says, he's starting small. His biggest hit so far has been Deep Eddy Vodka, which makes sweet-tea-flavored vodka. It's no Facebook, but Max has put more than $200,000 into the company, and he's given it a publicity boost by mentioning it in two of his books. As a result, Deep Eddy has expanded into more states, sales have spiked, and in a blog post about the investment, Max says he couldn't be happier. "I genuinely love the product, respect the team behind it, and am making great money on my investment."
Clayton Christopher, Deep Eddy's co-founder, said in an interview that he doesn't regret getting involved in a business transaction with a guy who once bragged about a sexual conquest with a midget. "He's been a great investor," Christopher said. "I don't hear from him very often. The last thing you want is investors who are asking you questions. He really respects that we know what we're doing."
For his troubles, Max says his personal reinvention as an angel investor has made him "at least $2 million" on paper – perhaps proving that in today's start-up climate, expertise and insight matters less than connections and luck. He plans to grow his portfolio to 100 investments by 2018, and hopes he can bring himself from the fringes of venture capital to the big leagues.

"I'm pretty excited," he says. "If I'm right, then I will have ended up making more from investing than from books."