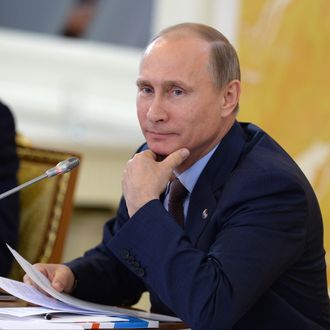 J.V. move, Putin.
Photo: Handout/2013 Host Photo Agency
As with the international manhunt for a 29-year-old hacker, a year ago no one would have predicted that an American saying a dirty word in a YouTube video would affect U.S.-Russian relations. This week, an anonymous YouTube user posted a video of what appears a phone conversation between two U.S. diplomats in which one says "you know, fuck the E.U." The official has apologized to her E.U. counterparts, but aside from the shocking revelation that people sometimes curse when dealing with frustrating diplomatic situations, the video raised a bigger question: Who tapped the diplomats' phones and posted their private conversation online? On Thursday, State Department officials pointed at Moscow, calling it "a new low in Russian tradecraft."
In the audio recording, Victoria Nuland, the top U.S. diplomat for Europe, and Geoffrey Pyatt, the U.S. ambassador to Ukraine, discuss efforts to resolve the ongoing standoff there between the government and protesters by forming a new transitional government. They also mention that Russia will probably "try to torpedo it." The video has Russian subtitles and prominently features photos of Sylvester Stallone for some reason. The "expletive in a reference to the European Union," as the New York Times puts it, comes around 2:30.
While the video was posted on Tuesday, it went mostly unnoticed until an aide to Russia's deputy prime minister tweeted about it early on Thursday morning.
Russia claims Western nations are encouraging a coup in Ukraine, and the tweet led U.S. officials to suggest Moscow is behind the leak. "The video was first noted and tweeted out by the Russian government," said White House Press Secretary Jay Carney. "I think it says something about Russia's role."
All signs do seem to point to Russia, but we should still consider the possibility that the whole incident was actually orchestrated by the U.S. It proves we aren't the only ones spying on other countries, and we have the good sense not to share the information we gather in poorly produced YouTube videos.