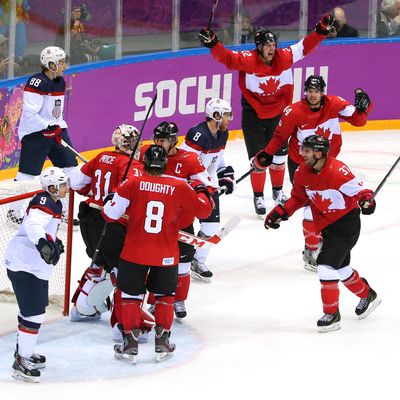 Stupid Canada celebrates its stupid goal during today's stupid Olympic semifinal.
Photo: Julian Finney/Getty Images
The Olympics are so much crueler than the sports leagues we watch the rest of the year. Lose in the Stanley Cup Playoffs, or the NBA Playoffs, or in any other league's post-season, and the next season's just a few months away. But lose in the Olympics — in which everything is compressed into a two-week span every four years — and you have to wait an awfully long time to make another run at a gold medal. You have to wait a long time to reignite rivalries. You have to wait a long time to redeem yourself. And it's not just the players who suffer that wait; fans do, too. But this year's Olympic men's hockey tournament is especially cruel: Not only did Team USA lose its semifinal to Canada today, 1-0, it may not even get a chance for true revenge four years from now.
Since NHL players began participating in the Olympics — which is to say, since the Olympics actually began determining which country had the best team of players — Canada had twice beaten Team USA in the gold-medal game. Even advancing that far is a legitimate accomplishment for USA Hockey, but their only win over Canada came during the preliminary round four years ago — a loss Canada avenged by beating the Americans for gold later in the tournament. The U.S. came so close last time, taking Canada to overtime before losing on Sidney Crosby's golden goal, but they still had to settle for silver and cede hockey superiority to their neighbors to the north.
But the Americans were in great shape entering today's game in Sochi. They'd looked very good in four Olympic games so far, getting balanced scoring (and lots of it) while not playing down to opponents. Their top defensive line had been excellent, most notably shutting down a scary first Russian unit. And they'd been healthy: The injury that kept Paul Martin out of today's game was the first serious one they'd had to deal with.
The Canadians, meanwhile, were undefeated, too, but their All-Star collection of forwards had struggled to find the net, and an injury to John Tavares would keep one of their most talented players out of the lineup in the semifinals and beyond. Four years ago, the Americans were considered a team on the rise, but still solid underdogs against Canada. But with the way the U.S. had played in Sochi to this point, they appeared to be a serious threat to finally take down Canada.
It didn't happen.
Canada was absolutely the better team in today's semifinal game. The U.S. has a handful of good scoring chances, but Carey Price stopped everything they threw at him, and they weren't able to generate much sustained offense. Canada forced them to take lots of long shots, with little chance of producing a juicy rebound. Canada was relentless, forcing the U.S. defensemen into their sloppiest game of the tournament. And even when the U.S. had the man-advantage on the power play, the aggressive Canadian penalty kill was stellar.
American goalie Jonathan Quick played well, but he didn't have a chance on Team Canada's one goal, a redirection by Jamie Benn that held up as the game's only goal. That's all it takes in hockey sometimes: one freaking goal.
But here's what makes today's loss even more painful: Four years from now, these American players may not be back to try again — not even the young ones who would still be among the best American players come 2018. For that matter, the best Canadians, and Swedes, and Russians may not be back either. The NHL hasn't yet decided whether it's going to allow its players to participate in the 2018 Winter Games in Pyeongchang, and there's speculation that they ultimately might decide against it. There are a handful of reasons why the NHL isn't wild about its players participating in the Olympics — the potential for injuries, the disruption of the regular season — but the one that really matters is that the NHL doesn't directly profit off the Olympics. NHL participation is great for the sport, and may help the game's profile in the United States, but the NHL doesn't control the tournament.
There's been a lot of talk that instead of sending players to the Olympics, the NHL would revive the World Cup of Hockey, which it would co-own along with the NHL Players Association. It could then stage its own international tournament on its own terms, holding it prior to the NHL season and, more importantly to them, profiting off of it. It's possible this won't actually happen — that the NHL will come to its senses and realize how much players and fans like Olympic participation as is. It's also possible that they'll bring back the World Cup in addition to sending players to the Olympics. (A decision could come in the next six months.)
But if NHL players don't go back in 2018, it'll be impossible for the U.S. to properly avenge today's loss. The World Cup would be fun for hockey diehards — it was really exciting for American fans when Team USA beat Canada to win the 1996 tournament — but it wouldn't have nearly the cachet that the Olympics have. And it wouldn't come close to drawing in casual viewers the way the Olympics do.
And while amateur Olympic hockey players are responsible for perhaps this country's greatest sports moment — the 1980 "Miracle on Ice" — those were unique circumstances, not only because of the political environment, but because the upset was made possible thanks to the USSR sending its best possible players while Team USA had to send a bunch of college kids. Watching teams of amateurs and second-rate pros in 2018 won't recreate anything close to that. Even die-hard hockey fans would have trouble getting worked up about it.
This generation of NHL players has grown up dreaming about winning Olympic gold, just they've dreamed about winning a Stanley Cup. The Olympics matter in a way that an artificial tournament like the World Cup won't. American hockey has come a long way, but the last step is taking down a team of the best Canadian players on the way to that Olympic gold. They've come close before, and came close again today. It would be a shame if they didn't at least get another shot in four years.