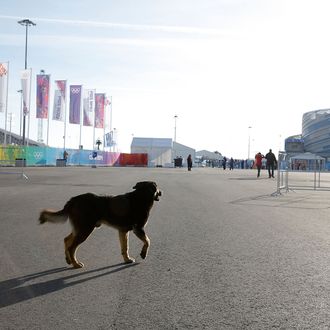 Photo: Joe Scarnici/Getty Images
The City of Sochi's decision last week to order its thousands of stray dogs rounded up and killed did not escape the notice of, well, pretty much anyone. And those with the means and desire to do so have swung into action to prevent it, creating a volunteer dog-catching force that's now doing the work the city had intended to pay a contractor for. As volunteers continue to roam the streets, picking up and transporting out stray dogs, it looks like the City of Sochi is getting a pretty good deal out of the bad press it received for having them killed at a reported cost of between $25 and $35 each.
Shortly after the news broke that the city would use deadly force on its dogs, a shelter funded by Russian billionaire Oleg V. Deripaska opened as an alternative to culling. Rescuers roved the Olympics campus in a golf cart, collecting the animals and bringing them to the shelter outside the city. "On Monday we were told we have until Thursday," one volunteer told the New York Times on February 5.
This week, despite that deadline, volunteers were still out in force, collecting dogs and taking them to safety some 75 miles away from Sochi. The system described by the Associated Press sounds like a refugee trail, with dogs heading to safe houses in the suburbs before being handed off to drivers who haul them out of town. But all those rescued dogs now pose a new problem for their saviors: Now they have to find adopted homes for them all.