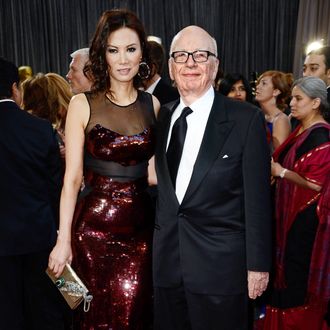 Photo: Frazer Harrison/Getty Images
Rupert Murdoch's ex-wife Wendi Deng, alleged fan of Tony Blair's rear end, does not look so good in Mark Seal's juicy new Vanity Fair story about the couple's divorce. Her descriptions of lust for the former British prime minister — "He has such good body and he has really really good legs Butt" — were already enough to secure a place in the romance canon for her alleged "passionate note … written in broken English by a woman to herself," but it turns out there's more, this time about another alleged Wendi fling, former Google CEO and current executive chairman Eric Schmidt. He does not come off as well as Tony Blair's butt. (Rupert's body is not evaluated.)
From the full story, on newsstands now:
In the aforementioned note to herself, Wendi wrote, "Eric fucks Lisa," presumably referring to Eric Schmidt and Lisa Shields, vice president of media affairs at the Council on Foreign Relations, whom Schmidt reportedly dated. "Lisa will never have my style, grace … I achieved my purpose of Eric saw me looking so gorgeous and so fantastic and so young, so cool, so chic, so stylish, so funny and he cannot have me. I'm not ever feel sad … about losing Eric … Plus he is really really ugly. Unattractive … and fat. Not stylish at all try to wear hip clothes … I'm so so soo soooo happy I'm not with him."
Although the exact provenance of the diary-like, almost unbelievable scribblings is not explained, Seal writes, "The note, not revealed until now, could have been one of the few pieces of evidence in their surprise divorce last year, had the case come to trial." (It didn't get that far — the couple settled.)
"Given the complicated dynamics of our family, we made the decision early on in this process not to engage in public allegations or respond to negative claims," Wendi and Rupert said in a joint statement. Other negative claims from Seal include that Wendi, once describe by Murdoch as "a nice Chinese lady," was " extremely abusive," both verbally and physically, and once "shoved him, and he fell backwards into the piano in the living room and then onto the floor, and he couldn't get up."
But the source of the tension that reportedly broke the marriage was Wendi's own ambitions to be a social butterfly and "a star in her own right," according to Vanity Fair. As such, she took on the role of movie producer on the 2011 film Snow Flower and the Secret Fan, the story of two Chinese women who "furtively communicate by taking turns writing in a secret language, nu shu, between the folds of a white silk fan," to hide their true feelings from the men around them. If only.