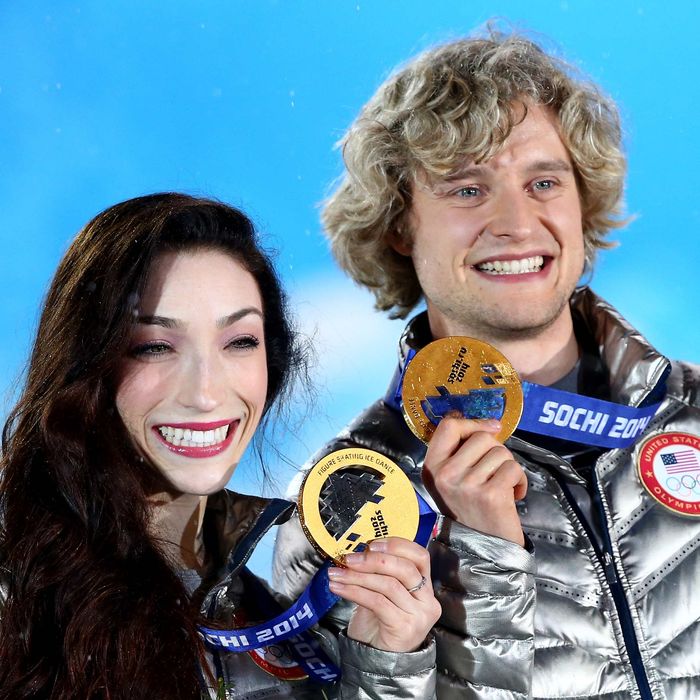 Photo: Ryan Pierse/Getty Images
How many times have you heard the "Star-Spangled Banner" — or any other national anthem — blare out of your television while watching the Olympics over the past week and a half or so? There's a good chance your answer was at most once, if you happened to catch the medals ceremony for ice dancers Meryl Davis and Charlie White at the very end of Tuesday's broadcast. Because it seems, both to this casual viewer and to many on social media, that NBC has been showing far fewer medal ceremonies than in previous years — almost none during its main prime-time coverage. An NBC spokesman told Daily Intelligencer there had been "no appreciable difference in the frequency of medal ceremonies," but NBC isn't offering the same explanation every time it's asked.
Of course, the medal ceremonies aren't totally necessary. We all know how the "Star-Spangled Banner" goes, and we already saw the athletes doing the thing they came to do. It can be nice to watch them having their moment of glory, especially if they get emotional. But that's kind of an added bonus to all the death-defying sports that just happened. And if we really want it, we can get it, as NBC has made video of the ceremonies available online.
But people like the pageantry and raw emotion of top-ranked athletes getting the ultimate payoff. For those of us who grew up watching the games in decades past, the medals ceremony was an integral and iconic — if often boring — part of the experience. Perhaps for that reason, a lot of people are pretty pissed about the lack of ceremonies in prime time, and NBC hasn't explained with any thoroughness which of them we can expect to see and when.
In an online item Tuesday night, NBC's Today noted that when it asked viewers on Facebook to share their Olympics questions, they responded "overwhelmingly" that they wanted to know what had happened to all the medal ceremonies. The explanation was not entirely satisfying:
If you've been wondering why you haven't seen any medal ceremonies on NBC's coverage, well, you have. Just not as many as usual — and because of the shift in timing, not at the usual post-victory moment you're used to seeing them.

"We air them when they're relevant, and we feel that they fit best in the coverage,'' an NBC Olympics spokesman told TODAY.com Tuesday. "For example, tonight we'll air the Meryl Davis-Charlie White ceremony later in the prime-time show."
Vanity Fair's Michelle Collins pointed out the inconspicuous positioning of the ceremonies NBC has shown:
The few medal ceremonies we've seen have been tacked on to the very end of the evening's programming while the credits are rolling, and *big shock* feature Americans at the top of the podium. That's no fun. The Olympics are as much about the people watching as they are about the events, and I personally would like to see what all those Dutch guys look like out of their speed skating uniforms, O.K.?
Many in the internet rank-and-file concur. Just look at all these annoyed tweeters: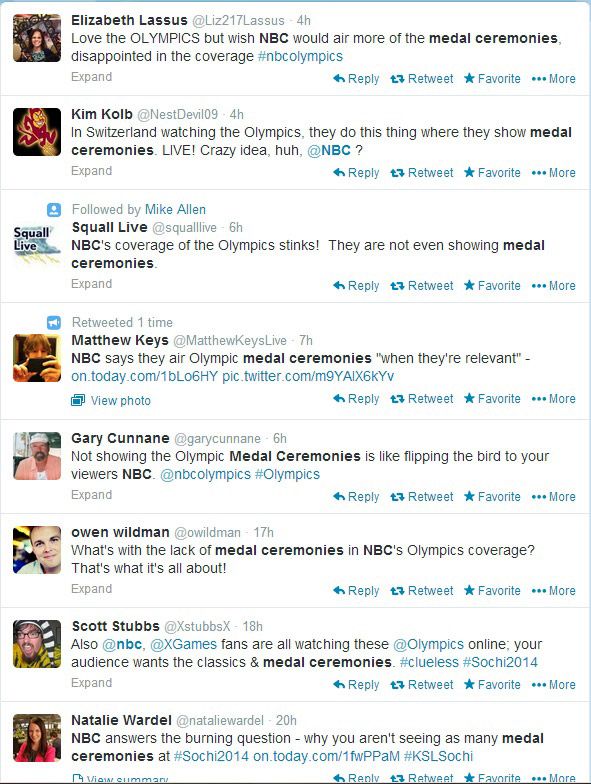 Maybe some of those kvetching on social media are the "flag-waving, poorly informed Americans" Slate's Justin Peters took to task on Tuesday for complaining that the ceremony for ice dancing, for which the United States won gold, didn't air immediately after the event. But many of those complaining about this just want to see any medal ceremony at all. And while the United States only has six gold medals, a total of 80 or so have been distributed so far. That's a lot of ceremonies!
An NBC spokesman emailed Daily Intelligencer on Wednesday to point out that Tuesday night's coverage closed with the Davis and White medal ceremony. He also noted that there were fewer overall events than in the Summer Games and therefore fewer medal ceremonies, and that most of the ceremonies didn't immediately follow the events but happened in a central Medals Plaza. He offered this statement:
There is no appreciable difference in the frequency of medal ceremonies for these Games vs. other Winter Games across our coverage. We recognize the emotion and nationalism that only an Olympic medal ceremony provides, and consider it a privilege to present these moments to U.S. viewers.
But it seems like a safe bet that NBC has calculated that showing people standing still isn't a good use of their air time. With skier Ted Ligety pulling down another U.S. gold on Wednesday in the giant slalom, it'll be interesting to see how relevant the network feels his ceremony will be to Thursday night's coverage. He may have won the gold, but can he crack prime time?