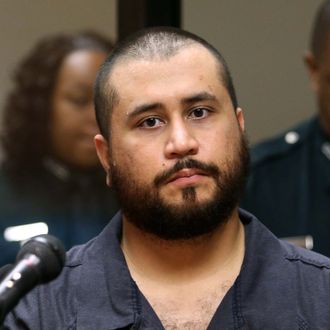 Photo: Joe Burbank-Pool/Getty Images
Last week, DMX was selected to take on George Zimmerman, the bad painter best known for killing Trayvon Martin, in a celebrity boxing match. And while seeing the rapper fulfill his promise to "beat the living fuck" out of Zimmerman might have brought satisfaction to some, the combined 100,000 signatures on Change.org and White House petitions asking that the event be canceled (not to mention the 311,000 likes on the "Cancel George Zimmerman's 'Celebrity' Boxing match" Facebook page) indicated that the public did not see it great way to honor Martin's memory. And, on Saturday, promoter Damon Feldman announced that he has decided to call off the fight.
"It was my decision to cancel the george zimmerman fight it was worth a lot of money to me but people's feelings meant more to me," Feldman tweeted. "I walked away from av [sic] million dollar payday with this fight but to be honest I'd rather be happy and make people happy thank you," he added. When another Twitter suggested that Feldman had canceled the boxing match over the "public backlash" as opposed to "a sudden attack of conscious," Feldman replied, "not at all man I couldn't care less about that is about was done right I could have made 2 million here." Not the most graceful way to bow out, but else do you expect from the guy who scheduled this thing in the first place?