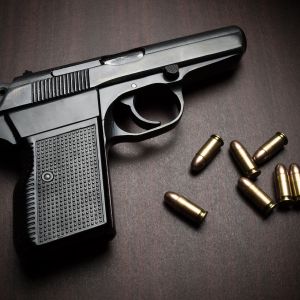 14-year-old Kathon Anderson has been charged with second-degree murder, criminal use of a firearm, and criminal possession of a weapon in the fatal shooting of 39-year-old Angel Rojas, the New York Times reports. The two, who did not know each other, were both riding the B15 bus through Bed-Stuy on Thursday night. Rojas, who was headed home after his job at a deli to see his family before starting his shift at a second store, was seated alone, talking on his cell phone. Anderson was a few rows behind him. When the teenager noticed that three other kids — apparently members of a gang at war with one Anderson is affiliated with — he stood up and, using a .357 revolver, fired a single shot, missing his rivals and instead hitting Rojas in the head.
Anderson and the other teenagers then fled the bus, and five more shots were fired outside, according to NYPD spokesman Stephen Davis. The driver closed the doors and drove two blocks until she encountered an ambulance. The New York Daily News reports that Rojas was still alive when paramedics reached him, but he had died by the time he reached Woodhull Medical Center. The cops located and arrested Anderson shortly after he left the scene. 
Reporters from the Times and the Daily News spoke to one of Rojas's children, 12-year-old Saury, who said that his mother, who only works part time, was "worried about the rent" now that his father had been killed. "If we don't pay the rent, she says we don't know where we're going to end up." The family, which lives in East Flatbush, moved to New York from the Dominican Republic four years ago.
Meanwhile, a Legal Aid lawyer representing Anderson said that the teenager sympathized with the Rojases. "I'm just going to ask everyone not to rush to judgment," he said. "A tragedy has happened," the teenager's mother told the Daily News. "Both families are suffering a loss." She declined to give her name because she fears gang retaliation, she said. "The stupidity of those gangs that basically over nothing are trying to kill each other, and unfortunately in the process kill innocents, as they did with this hardworking young man trying to raise his family," said Police Commissioner Bill Bratton to reporters. "A life needlessly lost, taken by a 14-year-old who felt it necessary to carry a gun on a city bus and shoot." Anderson was arraigned on Friday and is being held without bail. He'll be tried as an adult.