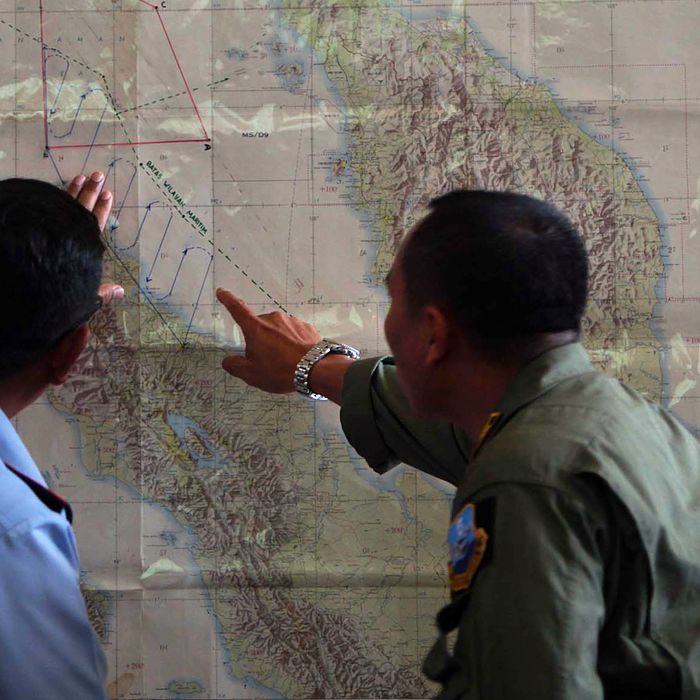 Photo: ATAR/AFP/Getty Images
On March 8, it took the Malaysian government several hours to declare Malaysia Airlines Flight 370 missing. Since then, the country's leaders have had trouble providing even basic information about the jet's disappearance, frequently backtracking on what they have supplied to the public and families of those aboard. After an international search party focused on Malaysia's east coast for nearly a week, the government said military radar actually suggested the plane turned back and flew to the west. Police released photos in which the passengers with stolen passports, who were later revealed to be Iranian asylum-seekers, appeared to have the same legs (they blamed a photocopying error). And officials offered conflicting reports about whether the plane's data communication systems were turned off before or after the pilots' last contact with air-traffic controllers.
The criticism from China, home to most of the passengers, has been particularly harsh. China's official Xinhua news agency said Malaysia's failure to release information more quickly is "intolerable," adding, "massive efforts have been squandered, and numerous rumors have been spawned, repeatedly racking the nerves of the awaiting families." News conferences have turned into protests.
While American investigators have been held at bay for more than a week, today, with news that the pilot's home flight simulator had some data deleted, Malaysia has turned to the FBI for help. Bickering between nations is common in these tragic situations, and dealing with one of the biggest mysteries in aviation history wouldn't be easy for any country. But there are certain issues specific to Malaysia that may explain the chaos surrounding its search for Flight 370.
The government isn't used to crisis management
As a nation that's peaceful, multiethnic, and relatively wealthy, Malaysia doesn't get much international attention — and the coverage it does draw has usually been positive. While its neighbors Indonesia and the Philippines have suffered major natural disasters in recent years, this is the first time Malaysian officials have had to deal with an international media frenzy. "It is one of these countries, because of its geography, that doesn't have earthquakes," Ernest Bower, a senior adviser for Southeast Asia studies at the Center for Strategic and International Studies, told CNN. "It doesn't have tsunamis, it hasn't been tested with a disaster like this."
Top officials are "complacent and comfortable," unprepared for media scrutiny
Malaysia became independent from Great Britain in 1957, and while it's nominally a democracy, the same ruling coalition has been in power ever since. That coalition has become "known for its lack of transparency and disinterest — even outright hostility — toward the press and inquiring citizens," as Joshua Kurlantzick, senior fellow for Southeast Asia at the Council on Foreign Relations, explained in Businessweek.
"Malaysians have come to accept that their leaders don't answer questions," Ambiga Sreenevasan, a lawyer and the former head of the Malaysian Bar Council, told the New York Times. "When you are not seriously challenged in any meaningful way, of course you get complacent and comfortable."
This week, when a foreign reporter asked about international criticism of the investigation, Malaysian Defense Minister Hishammuddin Hussein said the feedback has been positive, and snapped, "It's very irresponsible of you to say that."
The missing plane puts a spotlight on Malaysia's political unrest

The Barisan Nasional coalition, however, has been losing its grip on power. In last year's elections the coalition held onto its dominance in parliament, thanks in part to gerrymandering and alleged voting irregularities, but it failed to win a majority of the popular vote. "The opposition would have won if the elections were free and fair," Ambiga Sreenevasan of Bersih, an election watchdog group, told USA Today.
As suspicion has fallen on Flight 370's pilots, much has been made of captain Zaharie Ahmad Shah's support for the other side. Anonymous Malaysian sources have noted that he was such a "fervent" and "fanatical" supporter of Anwar Ibrahim, an opposition leader sentenced to five years in prison under a sodomy law, rarely enforced, on the day before the plane disappeared. (Slate's William J. Dobson downplays the connection.) Human rights activists say Ibrahim's repeated prosecution is politically motivated (Al Gore called it "extremely disturbing"), though the government denies this. A ruling party concerned with maintaining its position is never the most reliable.
Terrorism is a sensitive topic for Malaysian leaders
Malaysia's issues with other Muslim-majority nations, fairly liberal visa policy, and politically controversial cooperation with Britain and the U.S. on intelligence matters have made the country's leaders particularly secretive about terrorism. "Do not expect the Malaysian government to be the one providing any answers to the public if it turns out terrorism was involved," Joshua Kurlantzick writes in Businessweek.
Regional tensions have put a damper on cooperation

Malaysian officials insist they've been accepting help from other nations all along, but the bickering and lack of communication with China and other Asian neighbors suggests otherwise. "There is an underlying lack of trust in these matters," Bridget Welsh, an associate professor of political science at Singapore Management University, told AFP.
The latest example: On Tuesday, Thailand's military revealed that its radar detected a plane that may have been Flight 370 just minutes after its communications systems went down. According to the Associated Press, Thailand said it didn't share the information earlier because Malaysia hadn't asked for it.
Terence Fan, a Singapore-based aviation expert, said several nations may have picked up the plane on military radar, but kept it to themselves due to security concerns. "The rate at which they can take the picture can also reveal how good the radar system is and that I think is probably why the countries around here are not very fond of sharing the information," Fan said.
At a press conference on Tuesday, Hishammuddin Hussein said the country has been cooperating with international authorities and releasing any information that could be helpful in the search. "Our priority has always been to find the aircraft," he said. "Over the last two days, we have been recalibrating the search for MH370. It remains a significant diplomatic, technical and logistical challenge."