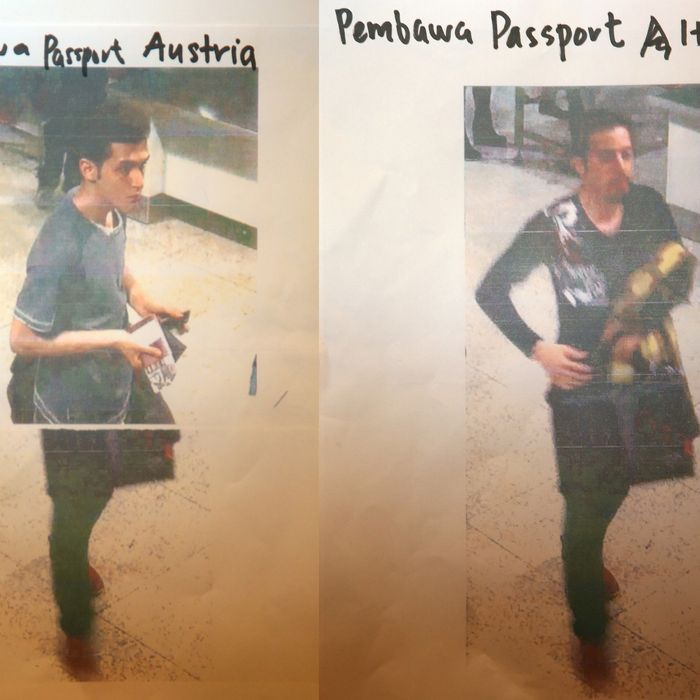 Photo: How Foo Yeen/Getty Images
On Monday, more fuel was added to the popular theory that terrorists are behind the disappearance of a Malaysian Airlines jet when a travel agent said tickets for the two men who boarded the flight with stolen passports were arranged by a "shadowy Iranian" known as "Mr. Ali." Now it seems their secrecy had nothing to do with terrorism. One of the men has been identified as Iranian teenager Pouria Nour Mohammadi (his age has been reported as 18 or 19), who was trying to enter Germany to seek asylum. The other has been identified as Delavar Seyed Mohammad Reza, 29. There's no evidence so far that either was connected to terrorism.
"The more information we get, the more we're inclined to conclude that it was not a terrorist incident," Interpol Secretary General Ronald Noble said on Tuesday at a news conference in France.
When Mohammadi did not show up as planned in Frankfurt, his mother contacted the authorities. "We believe he is not likely to be a member of any terrorist group," said Malaysian police chief Khalid Abu Bakar.
Tickets for both men, each one way, were bought using stolen Italian and Austrian passports last Thursday in Thailand. The older man's trip was scheduled to end in Copenhagen, Denmark. The men had been in Malaysia since February 28, and entered using valid Iranian passports.

As for the stolen ones, Interpol said they were in its database, but not checked before the plane departed. Thus, the agency said it was "unable to determine on how many other occasions these passports were used to board flights or cross borders."
"There are 14,226,140 reports of stolen passports in the database, so we have to work by intelligence," said Khalid. "We didn't have any prior intelligence on the possibilities of terrorism so the two stolen passports were not supplied to the immigration department."
The Beijing-bound plane has been missing since Saturday, and Khalid said police are focusing on four possibilities: hijacking, sabotage, psychological problems, and personal problems of those onboard (i.e., a targeted killing). So basically, investigators still have no idea what happened.
This post has been updated throughout.