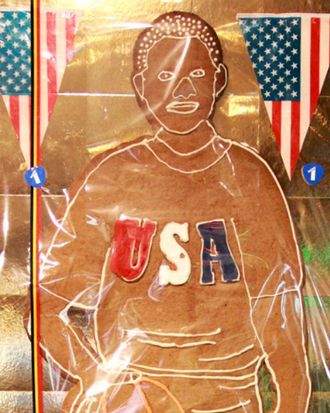 A Belgium newspaper apologized this week, ahead of a visit from President Obama, for an "admittedly tasteless joke," in which it depicted the most powerful African-American in the world as a drug dealer and an ape. Oops, ha-ha! The country has not learned from its racial mistakes, however, as evidenced by this huge gingerbread Obama, which is brown and playing basketball (in long pants) with exaggerated features.
"There's been  quite bit
[sic] of Transatlantic dialogue on this cookie," tweeted Radio 1, whose hosts were the great minds behind the (at best) poorly crafted gift. Here it is with Mark Storella, the Deputy Chief of Mission at the U.S. Embassy in Brussels on the right, smiling awkwardly:
The "biscuit" (their word) was crafted by baker Ronny Demedts, who, even if he meant no harm, should probably work on his technique. "When the U.S. president Barack Obama visits the country tomorrow, he will be handed over a life-size gingerbread replica," reports newspaper De Standaard. Fortunately, as noted by a few Redditors, "To protect the President and his family, the Secret Service requires destruction of food and drink gifts."
Come on, Belgium. Try harder.