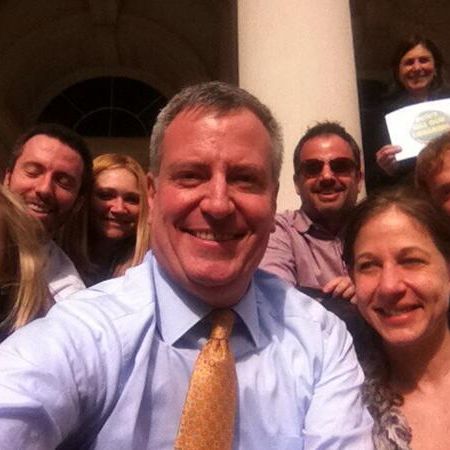 The early unforced errors of the Bill de Blasio administration culminated in a wave of bad headlines and a City Hall press conference walkout that left "an angry, disbelieving pack of reporters" in the mayor's wake. Then a poll put his job approval rating at 39 percent. And yet it was all smiles today — granted, it was sunny and warmish out — as de Blasio worked a little Ellen-at-the-Oscars charm offensive with his occasionally adversarial beat reporters.
Like Blair Waldorf on the steps of the Met, the mayor posted up outside of City Hall and worked one of his already patented, Cory Booker–like photo ops, this time starring the press corp itself. De Blasio and his staff then promptly shared the results on social media:
First one to figure out a way to use "A Tale of Two Selfies" as a headline wins.