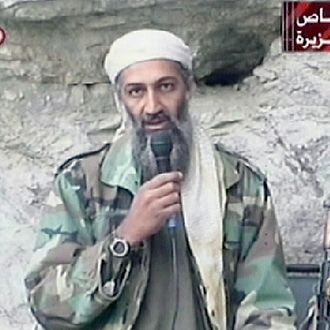 After a federal judge in New York barred glowing, exculpatory testimony from September 11 mastermind Khalid Sheik Mohammed, Osama bin Laden's spokesman and son-in-law Sulaiman Abu Ghaith took the stand today, unexpectedly, to defend himself. While claiming he had no advanced knowledge of any planned attacks, Abu Ghaith did describe meeting, for talking points, with Bin Laden after September 11. In a "cave, inside a mountain, in a rough terrain," Bin Laden sought his mouthpiece's opinion, the New York Times reports:
Mr. Abu Ghaith said he told Bin Laden that if it were "proven that you were the one that did this," the United States would not stop until it accomplished two things: killed Bin Laden and toppled the Taliban state.

"He said, 'You are being too pessimistic.' I said, 'You asked my opinion, and this is my opinion,' " Mr. Abu Ghaith testified.
"I was hoping the United States would say, 'Let's sit down and talk and solve these problems,'" said Abu Ghaith, who now claims he was not trying to recruit for Al Qaeda, "but America was going on and doing what I expected them to do."