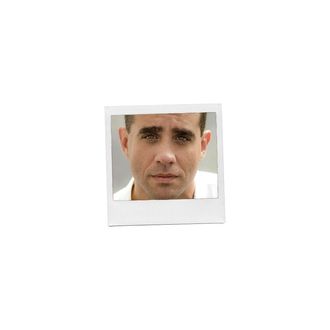 Name: Bobby Cannavale
Age: 43
Neighborhood: The Village
Occupation: Actor — you can catch him tonight at alongside Michael Cerveris, Anna Chlumsky, Mary Stuart Masterson, and more, reading stories at Selected Shorts: Back to the '80s, at Symphony Space. 
Who's your favorite New Yorker, living or dead, real or fictional?
Can I have a few answers? Alexander Hamilton, Frederick Law Olmsted, Bob Dylan, and Rosie Perez.
What's the best meal you've eaten in New York?
It's a tie between Babbo and Craft. I'm usually an order-quick-and-leave guy, but I stay in those two restaurants longer than any other restaurants I go to. I just sit there and scrutinize what's in my mouth. I feel totally comfortable telling those guys when I see them, "Hey, no shit, your food's great."
In one sentence, what do you actually do all day in your job?
Hurry up and wait (and eat cashews).
What was your first job in New York?
I lasted one day as a greeter on the 88th floor of the observatory of the Empire State Building, when I was 19. My nose bled and I was freaked out the whole time. My second job was as a bartender at TGI Friday's. I worked at the one right outside of Grand Central Station, and I was single, and it was incredible. I got all the commuter ladies going to, you know, wherever the hell they get on Metro North and go to.
What's the last thing you saw on Broadway?
Rocky. [Long pause.] The last thing I loved on Broadway was Mark Rylance in Twelfth Night.
Do you give money to panhandlers?
Sometimes. It's just that New York mood thing, you know? I don't think about it too much. It's never about the money for me.
What's your drink?
Jameson, two ice cubes.
How often do you prepare your own meals?
I make breakfast like four times a week. I'm a scrambled eggs, bacon, toast, fruit guy. Otherwise, I have like two or three recipes, not worthy of mention. 
What's your favorite medication?
Prednisone. I think every stage actor would say that. When you're on a run and you do eight shows a week, sometimes you've got vocal problems and you've got to do your show. Predisone's one of those drugs that whenever I have to do it I think to myself, Man, I gotta figure out a way to figure out how to get a stockpile of this, in case of the apocalypse. If the apocalypse happens, we just gotta reduce the swelling.
What is the best thing in or about your apartment?
My lady.
What's the craziest thing you've ever seen on the subway?
My friend Richard Kind asleep on the subway while a gang of teenagers took pictures all around him. And I'm his friend, and I didn't do anything. I took a picture of it, but my phone crashed and I lost it. But I have many other pictures of Richard asleep in public places.
When was the last time you stayed out past 3 a.m.?
I can't remember. Bedtime varies, but I usually like to go to bed at 12:30, wake up at 7:30, 8 o'clock.
Which do you prefer, the old Times Square or the new Times Square?
I think the old Times Square, but only since my son went away to college. Now that he's away, I want the old Times Square back. I used to love shitty movies, like kung fu movies and stuff. And there's no place to see that stuff anymore. That was Times Square. And it also just had that grimy, kind of hustle-y kind of quality about it that I appreciate. I mean, I'm never going to go to Madame Tussaud's wax museum.
What do you think of Mayor de Blasio?
He's tall.
What do you hate most about living in New York?
On a sidewalk, when people walk on the left. I go crazy every day. I say things to people. There's a flow! There's lanes — and if one guy throws it off, like he's on his phone and he's in the wrong lane, it backs up everything. And if you're going to go up the stairs on the left on the subway, go two at a time, so you can keep the lane clear. I don't like people who don't know how to walk in the city.
If you could banish one person from New York forever, who would it be?
Peter Dinklage. For obvious reasons.
When's the last time you drove a car?
Today.  I have my car in the city.
Finish this sentence: The NYPD _____.
Is the best police force in the world. I've been around a lot of cops working in the city, and they're the greatest.
Times, Post, or Daily News?
Times.
Where do you go to be alone?
A park bench. Any bench. If there's a bench I'll sit on it.
What makes someone a New Yorker?
You're a New Yorker if you live here and you stay here. You know, you'll meet people who'll say, "Oh, I'm from New York, I miss it so much." "When's the last time you were there?" "Twenty-three years ago." No, that doesn't count.