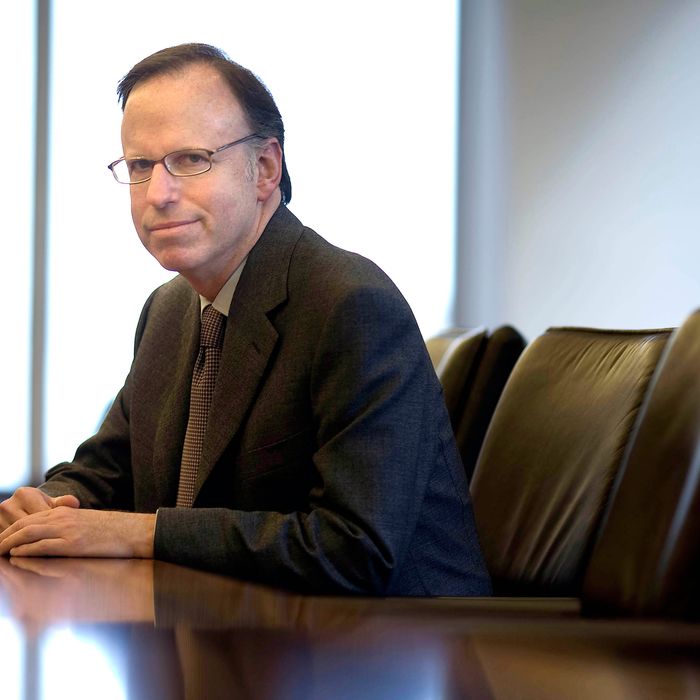 Steven Davis, the indicted former chairman of Dewey & LeBoeuf
Photo: Robert Caplin/Bloomberg
The story of the collapse of Dewey & LeBoeuf, a once-huge law firm that went bankrupt in 2012 after a series of bad decisions and falling profits led to a partner exodus, remains one of the weirdest and most fascinating business stories of the last several years. (If you haven't been following along, James B. Stewart's New Yorker piece is the indispensable catch-up.) Dewey was essentially undone by the sky-high ambitions of "the Steves" — Steven Davis and Stephen DiCarmine, the firm's chairman and executive director — and marked the largest law firm to go bankrupt in U.S. history.
Today, the story got even worse.
Prosecutors now allege that Davis and DiCarmine, along with two other former Dewey executives, conspired to hide the firm's failing financials from banks and investors while the firm was death-spiraling. Here's how DealBook summarizes the indictment, handed down by Manhattan DA Cy Vance.
The specific counts in the 60-page indictment include grand larceny, conspiracy, scheme to defraud, falsifying business records and securities fraud … The case against the four men centers around a 2010 private debt offering, in which Dewey raised $150 million from 13 insurance companies that invested in the deal and another $100 million it obtained from a line of credit placed with a number of major banks. Prosecutors say that the law firm used the offering to refinance its existing credit lines and to mask the dire financial situation the law firm was in.
Dewey's alleged book-cooking appears to have been fairly amateurish, especially given how prestigious the firm was. According to the indictment, the firm's executives had a document called the "Master Plan," in which they laid out their plans to make the firm's revenue appear higher and its costs appear lower than they actually were.
Lawyers for Davis and DiCarmine have issued statements denying the charges, but it's going to be fairly difficult to prove that they weren't up to something suspicious. Especially with emails like these:
In one email exchange in December 2008 between Mr. Davis, Mr. Sanders and Mr. DiCarmine, the men are discussing the need to come up with $50 million to meet a loan covenant provision. Mr. Davis responds "ugh" in one of the emails …


In another email exchange in June 2009, some of the defendants joke about the law firm's outside auditor leaving to take a new job. Mr. Sanders reportedly remarks to a person at Dewey: "Can you find another clueless auditor for next year?"
As with Enron and Worldcom, prosecutors will have a field day with Dewey & LeBoeuf. And the accountants who audited Dewey's financials will likely have some explaining to do.