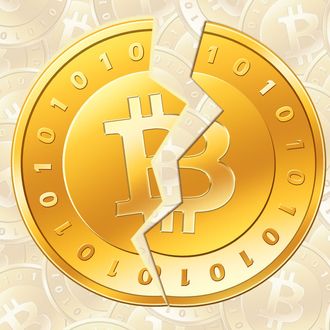 Though some think Bitcoin's decline was inevitable (New York's own Kevin Roose included), embattled exchange Mt. Gox is still hard at work trying to salvage its own reputation with the digital currency. The Tokyo-based firm, which filed for bankruptcy protection on Friday after losing 100,000 of its own Bitcoins, plus another 750,000 belonging to customers, has now posted a notice on its website announcing a new call center set up to "respond to all inquiries" regarding the estimated $500 million loss. Starting on Monday, March 3, Mt. Gox clients will be able to call a phone number (+81 3-4588-3921) and discuss their losses between 5 p.m. to midnight, Sunday through Thursday. (That's 8 p.m. to 3 a.m. Eastern time.)
CNET explains that, in addition to the call center, Mt. Gox also promised to update its bankruptcy filing under Japan's Civil Rehabilitation Law, which allows the company to restructure and rebuild similarly to U.S. chapter 11 bankruptcy.

Even if it does receive bankruptcy protection, Mashable writes the Japanese firm could still be legally culpable for its clients' losses, especially since a Chicago-based law firm is trying to prove attempt to prove Mt. Gox defrauded customers through a class action suit it filed on behalf of all U.S. residents who lost money.

Elsewhere, a 20-something "Bitcoin entrepreneur" in Miami — who provided Mashable with a screenshot of his Mt. Gox account dashboard to prove he's lost $600,000 because of the site — said he has "no idea what [calling the hotline] will entail," which just seems par the course in the wide world of Internet money.