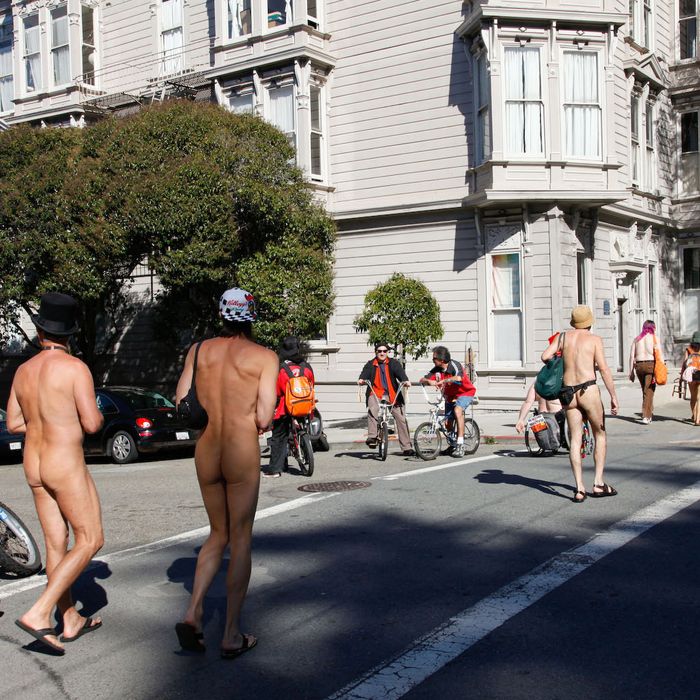 Before San Francisco banned public nudity last year, one could see, on any given day, the naked guys who hung out at the corner of Market Street and Castro, one or two or ten of them sitting at café tables, basking, sunscreen presumably on their dicks. Once as I was walking through the same neighborhood, I saw an old fat guy hop out of his car ass-nude but for a pair of hiking boots to get gas. As it pumped, he took advantage of the squeegee provided to wash his windshield.
It was these regulars who were supposedly responsible for the ban, though they weren't the only naked people you'd encounter around town. People said they were obnoxious, that they had gone too far. "The guys have taken it to such an extreme," said Scott Weiner, the supervisor who ultimately proposed the ban. "I have to say it's actually sad because I think for many, many years, we were totally fine in the city without any kind of ban on public nudity."
Exactly. Sad. Whether the ban was entirely the fault of naked people's misbehavior or had anything to do with the median home sale price in the city's historic gayborhood recently reaching $1.2 million, everyday nudity had proved that it wasn't for nothing people called San Francisco "famously tolerant" or used the phrase "San Francisco values" to invoke wildness and rampant permission. The new law wouldn't ban nudity at permitted events like the Folsom Street Fair, "the world's largest leather event."  But you can find that kind of nudity at any fetish ball in Ohio.
So on the day the ban went to a supervisors' vote, naked protesters gathered on Van Ness Avenue outside City Hall, on the day the ban went to a supervisors' vote. Their nudity couldn't stop its passing. (Barely.) Afterward, some of them lingered on the sidewalk, giving naked interviews to the press. Standing around in their sandals, their perfectly imperfect butts looking extra-exposed—sadder, impotent—the few skinny white people left over weren't in violation of the law yet; it wouldn't go into effect until a federal judge could hear a challenge. It would be a few months still before he rejected it, but it was already too late. As the sun set, people were leaving, moving on with their day. One of the men, tall, tan, and barefoot, bent down to the pile of clothes at his feet and started putting them on.