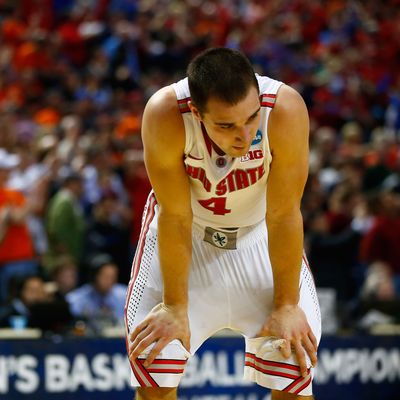 Photo: Jared Wickerham/Getty Images
I wrote earlier today about how sports-media and announcers project certain virtues — smarts, toughness, hard work — onto white athletes, using coverage of my alma mater, Michigan, as a case study. But there's probably no better example than Aaron Craft, point guard for Ohio State.
Craft is a pretty good basketball player. He's strong and quick and plays fantastic defense. His jump shot is atrocious. Basketball announcers tend to treat him as the embodiment of all that is good and decent in sports. That habit was on display today, thankfully, for the last time ever, in Ohio State's last-second loss to Dayton.
The commentary was a game-long rhapsody to the grit, determination, and human decency of Craft. At some point, somebody said, "There's a toughness in that shirt that belies the angelic countenance."
Then, near the end, play-by-play commentator Verne Lundquist declared he respected Craft more than any player he had ever seen:
But what makes Craft so admirable? Is his degree in nutrition so much more impressive than any other players' academic achievements? Does he display special poise and smarts on the court? Not really: He makes some pretty bad decisions, like a horrendous intentional foul with two-and-a-half minutes left. He's a solid player overall.
So you have to ask what about Craft makes him the vessel for such unusual admiration. The answer is pretty clear.