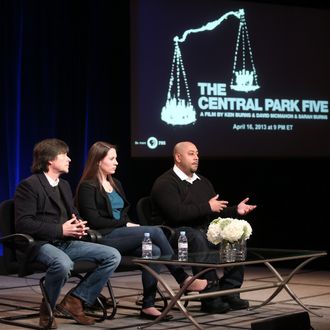 Raymond Santana, one of the Central Park Five, with filmmakers Ken Burns and Sarah Burns.
Photo: Frederick M. Brown/2013 Getty Images
Shortly after he was elected mayor, Bill de Blasio said he would settle a wrongful-conviction lawsuit brought against the city by the "Central Park Five" in 2003, a year after another man confessed to the infamous 1989 rape and their convictions were vacated. De Blasio said the case should finally be settled because "a huge injustice was done," but The Wall Street Journal reports that several plaintiff attorneys not involved in the suit disagree. City lawyers have argued that prosecutors and detectives had probable cause, and judges found that the men's statements weren't coerced. Attorney Ronald Kuby explains, "the city actually has a legally viable defense but it's so morally odious." The Journal analyzed other wrongful conviction settlements and determined that that the city may wind up paying the men between $2 million and $4 million each, plus millions in legal fees – just in case anyone was curious about the cost of taking the non-"morally odious" route.