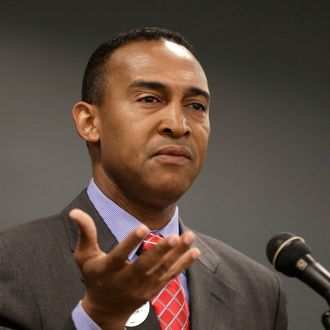 Apparently Wednesday was Nab a Corrupt Politician Day at the FBI. Federal officials arrested California state Senator Leland Yee and Charlotte, North Carolina Mayor Patrick Cannon, and raided New York Assemblymember William Scarborough's office in separate corruption investigations. Hours after he was released on bond, Mayor Cannon resigned, effective immediately. "In light of the charges that have been brought against me, it is my judgment that the pendency of these charges will create too much of a distraction for the business of the city to go forward smoothly and without interruption," he wrote in a letter. Sorry to spoil the ending of the American Hustle of 2048, but there are other details that should make the film (holodeck program?) worth watching.
Mayor Cannon, a Democrat who took office in December and served on City Council since 1993, is accused of accepting more than $48,000 and various gifts in exchange for helping several real estate developers with permitting, zoning, and planning issues. Of course, they were actually undercover agents. According to the criminal complaint, Cannon accepted bribes from the "developers" five times in the last year. He's now facing 50 years in prison and $1.5 million in fines.
Officials claim that when an undercover agent asked Cannon for help starting a nightclub in Charlotte, the future mayor mentioned he was starting a business to sell a feminine hygiene product called HERS and needed a $12,500 investment. In January 2013, they met in an apartment that was under video and audio surveillance, and the fake developer put $12,500 on a coffee table. According to the New York Times, "When Mr. Cannon appeared nervous, the agent closed the blinds and Mr. Cannon 'placed the money near his ear and fanned the bills.'" Later, Cannon tried to clarify that the money was for HERS, not a bribe, but there's no evidence that he ever tried to start the company, or return the money.
Last summer, Cannon allegedly agreed to take $6,000 in cash and an all-expense-paid trip to Las Vegas from another developer who was actually an undercover agent. In return, Cannon vouched for the developer to a group of foreign investors, saying they had known each other for years. (They'd only met a month earlier, but Cannon said, "Well, if it's made up, it really doesn't matter.") The foreign investors Cannon met with were all federal agents too. 
Cannon even wrote some dialogue for screenwriters of the future. In a January 2013 phone call with an investor/federal agent, he joked, "I'm not one of those Chicago or Detroit type folk," adding that he looks good "in an orange necktie, but not an orange suit."